Minecraft Interactive Experience
Play Sound
This section is missing information about Release date not in source given.
Please expand the section to include this information. Further details may exist on the
talk page
.
TU1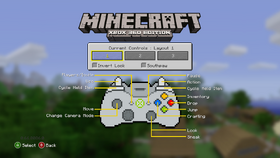 Edition
Internal version

Build 0.66.0086.0
Installer v0.0.1.1

Release date

May 9, 2012

Downloads
TU1 was a version of Xbox 360 Edition released on May 9, 2012.[1] This version is based on Java Edition Beta 1.6.6. It was the day one patch to the console.
Changes
[
]
Updated crafting icons.
Texture changes.
New clearer font.
Save indicator will now disappear after 9 seconds.
Changed the chat message background.
References
[
]