This section is missing information about Release date not in source given.
Please expand the section to include this information. Further details may exist on the
talk page
.
TU0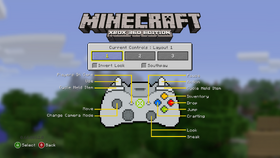 Edition
Internal version

Build 0.66.0062.0

Release date

May 9, 2012

Downloads
TU0 was a version of Xbox 360 Edition released on May 9, 2012.[1] This version is based on Java Edition Beta 1.6.6. The internal build date of this version is March 30, 2012, over a month before release. This was the first version of the Xbox 360 Edition; TU1 was a day-one patch for the console.
Changes
[
]
Menu scroll sound was changed to a higher pitch.
Text is much blurrier.
Added textures from Java Edition 1.2.2
Minor tooltip changes.
Pause menu is now lower.
References
[
]