Minecraft Interactive Experience
Play Sound

This page describes an edition of the game that has been officially discontinued.
This edition is no longer updated, but can still be purchased digitally or physically.
Xbox 360 Edition
Author(s)
Platform(s)

Xbox 360

Written in
Latest version
Release date

Digital - Xbox Games Store
May 9, 2012
Retail Disc - DVD's
June 4, 2013

Rating(s)

(online interactions not rated)
PEGI: 7[2]
ESRB: E10+[3]
ACB: PG[4]
DEJUS: L (Livre)[5]
DEJUS: 10[6]
USK: 6[7]

Size

113.21 MB

License

Proprietary

Source available

No

Links
Minecraft: Xbox 360 Edition is the Xbox 360 version of Minecraft, developed by 4J Studios in conjunction with Mojang Studios and Xbox Game Studios.[8] It was announced at the 2011 E3 conference by Notch and Microsoft, and was released alongside a free trial version on May 9, 2012 on Xbox Live Arcade. It is priced at US$19.99.
As of TU75, the Xbox 360 Edition has not received new feature updates, such as Village & Pillage, Buzzy Bees, the Nether Update, Caves & Cliffs, and so on.
Although the Xbox 360 console has been discontinued with all the other Legacy Console Editions, the Xbox 360 Edition continued to receive feature updates until the release of the Update Aquatic.[9]
Retail disc
[
]
On June 4, 2013, Microsoft released the first retail disc of Xbox 360 Edition with a free gold membership. It cost US$19.99, the same price as the Xbox Arcade version. The game otherwise is identical to the downloadable version. Features such as buying or downloading content on Xbox Live are the same for both versions and they both updated at the same time. It was released in regions or countries supported by Xbox Live. The disc version is updated to TU9.
Gameplay
[
]
Release
[
]
The game was showcased as a playable demo at MINECON 2011 and was deemed a 'work in progress'.[10] 4J Studios confirmed that it had all the features of Java Edition Beta 1.6.6 when released, and that it would later be updated. IGN also filmed a video at MINECON showing that the graphics look very similar to Java Edition.[11]
Notch later announced the team developing the game would be 4J Studios.[12][13] Daniel Kaplan tweeted about receiving an early copy of Xbox 360 Edition on September 7, 2011.[14]
In October 2011, Microsoft said the release was planned for Spring 2012.[15] On March 22, the official release date was posted by Larry Hryb, the Director of Programming for Xbox Live, as May 9,[16] and a few days before the game release, HatFilms released "the official trailer" for Xbox 360 Edition.
The game was officially released on May 9, 2012, and set a new sales records on the Xbox Live Arcade, selling more copies in the first 24 hours of launch than previous titles.[17]
The retail disc version was released on June 4, 2013, being exactly the same as the arcade version, with the exception of internet connection not being a requirement to play.
Skin Packs
[
]
4J Studios has produced multiple Skin Packs as downloadable content. Each Skin Pack includes about 45 skins to choose from. The first Skin Pack, Skin Pack 1, was released July 16, 2012 at a cost of US$1.99. The Skin Pack contains characters from Xbox 360 games, such as the Master Chief from Halo. On Xbox 360 Edition's birthday, the player can download special skin packs for free. There are many more skin packs, including a Christmas Skin Pack, a Marvel Skin Pack, a Spider-Man Skin Pack and multiple Animal Skin Packs. The Skin Packs also include various original designs created by 4J Studios. In total, there are more than 10 skin packs.
Controls
[
]
In default settings, the controls are always displayed on the HUD.
Gameplay

- Jump (double tap to fly while in Creative)
- Drop item
- Open crafting menu in Survival mode or creative inventory in Creative
- Open inventory
- Place block/use item
- Mine/use block or item
/ - Change the selected block
- Move
(Moved forward twice in rapid succession) - Sprint
- Change camera angle
- Look
Marvel Skin Packs Bundle
[
]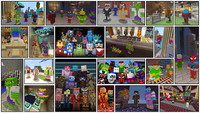 The Minecraft Marvel Skin Packs Bundle was released on November 30, 2015, and contains all of the Marvel Skin Packs:
The bundle was meant to be a discount for the Marvel Skin Packs. On December 22, 2015, the bundle was removed from the Xbox Games Store, thus being no longer available for the Xbox One and the Xbox 360. This bundle costed US$6.99 and was available in the Xbox One and the Xbox 360.[19][20] The Marvel Skin Packs from the bundle still transfer to Bedrock Edition, but they are not usable in online or LAN multiplayer.
Awards and unlockables
[
]
Steve Gamerpic - Mine redstone for the first time
Creeper Gamerpic - Kill 10 Creepers
Minecraft Exclusive (Wood) Theme - Share a picture on Facebook
A Minecraft Watch - Play through 100 day to night cycles
I Porkchop Minecraft T-shirt - Make a cooked porkchop
Creeper Cap - Kill a Creeper with arrows
Trailer
[
]
Note: As with the PlayStation 3 and the Xbox One trailer, this one was also created by Hat Films.
Trivia
[
]
Xbox 360 Edition was added to the Xbox Arcade download section in November 2011, although it was only possible to download the ""It's here!" trailer". Nonetheless, the entry held very high ratings.
There are also Minecraft-themed Xbox Live avatar items available. Among these are Minecraft shirts, pets, items, props, head wear, dashboard themes, and gamer pics, all of which range from US$1/£0.64 to US$2.99/£1.92 in price.
The retail disk version of this edition includes Title Update 9 and could be updated past TU9 by connecting to Xbox Live.
There are a few pre-release builds of Minecraft: Xbox 360 Edition.
Gallery
[
]

References
[
]