Wheat is an item primarily obtained by farming.
Obtaining
[
]
Natural generation
[
]
Farming
[
]
When a fully-grown wheat crop is harvested, it drops 1 wheat and 0 to 3 wheat seeds. A wheat crop has a total of eight stages (0-7) from the time it is planted until it can be harvested. If a crop is harvested before it is fully grown, it drops one seed. Wheat needs light to grow; a seed is destroyed if planted without light. Harvesting with a Fortune-enchanted tool increases the number of seeds dropped but does not increase the yield of wheat.
Crafting
[
]
Drops
[
]
A fox sometimes spawns holding wheat, which it always drops upon death. Alternatively, the player can drop a food item, causing the fox to drop the wheat.
Usage
[
]
Food
[
]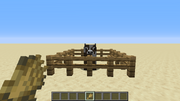 When wheat is held, it causes nearby cows, sheep, goats, and mooshrooms to follow the player, until either the player stops holding the wheat or goes too far away from the animal, thus leading them to lose interest.
Wheat may be used to breed cows, sheep, goats, and mooshrooms by first herding two of them together and then using the wheat on them to begin "Love Mode."
Wheat can heal a horse 1

health or lower its temper by 3% when attempting to tame it. It can also decrease the time it takes for a foal to grow by 20 seconds.
Similarly, wheat can heal a llama 2

health, and it decreases the time it takes a baby llama to grow by 10 seconds.
Crafting ingredient
[
]
Trading
[
]
Novice-level farmer villagers have a 25%‌[Bedrock Edition only] or 40%‌[Java Edition only] chance to buy 20 wheat for one emerald.
Composting
[
]
Placing wheat into a composter has a 65% chance of raising the compost level by 1.
Achievements
[
]
Icon
Achievement
In-game description
Actual requirements (if different)
Gamerscore earned
Trophy type (PS4)
PS4
Other platforms
Bake Bread
Turn wheat into bread.
Pick up bread from a crafting table output.
15G
Bronze
The Lie
Bake a cake using: wheat, sugar, milk, and eggs.
Pick up a cake from a crafting table output.
30G
Bronze
Repopulation
Breed two cows with wheat.
Breed two cows or two mooshrooms.
15G
Bronze
Advancements
[
]
| Icon | Advancement | In-game description | Parent | Actual requirements (if different) | Resource location |
| --- | --- | --- | --- | --- | --- |
| | A Seedy Place | Plant a seed and watch it grow | Husbandry | Plant one of these 5 crops: | husbandry/plant_seed |
Data values
[
]
ID
[
]
Video
[
]
Note: the narrator demonstrates at 0:56 that walking over wheat can destroy the crop and un-till the land. This is outdated: since version JE 1.1, wheat can be destroyed only by a player or mob jumping on it or falling on it.
History
[
]
Issues
[
]
Issues relating to "Wheat" are maintained on the bug tracker. Report issues there.