Hello, I am a rollback in this wiki. I am normally available in both here and the Happy Tree Friends Wiki (Rollback, Discussion Moderator). I sometimes seek for any stubs that I can edit on.If you wish to talk to me or simply say hi, message me on my message wall.
Me and Minecraft
I've played the Pocket Edition of Minecraft for a long time in the game (I think I played the game for the first time in 2012, it was the demo version though and I was a bit ignorant when I played the game for the first time). After big updates, I began playing in servers to play mini-games (Survival Games and Skywars are my favorites). I can't play in servers for now since I need an Xbox account. This year I usually play with my sister by LAN.
More about me
I tend to play survival mode a lot, but when I play creative, I usually build my own villages (You'll get the idea on what's my favourite mob with this statement,

, most likely on super flat worlds. In survival, I always play like a nomad in-game and I usually never built a home (I will stay around in villages when I see them). I always wanted to believe that Herobrine is an actual part of the game, but unfortunately, I can't find any actual evidence to his existence other than ridiculous fake sightings. My least favorite mob is not surprisingly, the skeleton.
Userstats
Edits of

TravellingEye

on Minecraft Wiki
Total:
1,693
Article:
1,234
Talk:
49
Board Thread:
0
User:
28
User talk:
0
Thread:
276
Project:
4
File:
19
File talk:
0
Template:
0
Template talk:
0
Category:
6
Category talk:
0
Forum:
0
User blog:
6
User blog comment:
12
Friends
Add yourself here if you think you are a friend of mine.
Gallery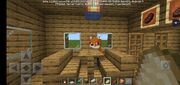 Userboxes
| | |
| --- | --- |
| | TravellingEye believes in Herobrine! |
| | |
| --- | --- |
| | TravellingEye believes Herobrine is a hoax! |
| | |
| --- | --- |
| | TravellingEye likes playing both single and multiplayer modes. |
| | |
| --- | --- |
| | TravellingEye prefers to play Minecraft without any mods. |
| | |
| --- | --- |
| | TravellingEye has the ability to rollback edits on Minecraft Wiki! |
Community content is available under
CC-BY-SA
unless otherwise noted.