Wanna check my wiki? Just
click here
.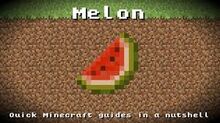 HELLO AND WELCOME TO MY PAGE!
First of all before you continue i am the master of all melons (i'm also a melon, but don't eat me i'm not tasty). Ok, now you can continue.
Hi there! My name is george (aka MasterOfMelons) and i am just another user here. If you wanna ask me anything you can text me on my message wall. Just please do not spam and we're good.
HOBBIES
My hobbies are mostly playing basketball, playing chess and working on the wiki. I also like playing minecraft (i'm an expert) so if you also want to ask something about minecraft, you can text me on my message wall.
MINECRAFT
My favourite game is minecraft. I play mcpe the most and mcpc less, as i'm a noob at mcpc (i do not know how to make redstone stuff, or pvp. I don't even know how to craft well xD). But i'm an expert at mcpe. My favourite mcpe servers are LegionPE, RubyCraft, Lbsg and Instant Network. You will mostly find me in these servers with the username "mixmax77melonguy". I also have a crush on mobs and my favourite mob is the Wither Boss.
OTHER GAMES I LIKE
I also play other games too except minecraft, like monster legends injustice and agario. On monster legends my stronger monsters are tao tao level 90, dragonian beast level 85 and darknubis level 85. I also have many other monsters (legendary monsters too) and also very rare monsters. I also play injustice. My stronger team is gold first batman, gold second joker and silver doomsday. I also play agario. I never got into the top 10 list :( xD.
MY FAVOURITE WIKIS
Except this wiki, i join and help other wikis too. My favourite wikis are:
Minecraft Mob Wikia (Mine xD)
Minecraft Pocket Edition Wiki
Teenage Mutant Ninja Turtles (nickelodeon) wiki
Terraria Mobile Wiki
SERVERS
It's sad that i haven't made it to make my own server even if i tried (it would be a very cool server). However, i have made to become a nice helpful and trusted staff at other servers that you can find me. These servers are:
RubyCraft (i'm co-owner) and ip: a21744.leet.cc
GlowCraft (i'm admin) and ip: a19408.leet.cc
These are the ones i can remember cuz i have been staff at least at 20 servers and i don't remember them all.
Also these servers are for Minecraft PE.
MY AIMS
These are my aims on this wiki:
Reach 200 edits
Reach 500 edits
Reach 800 edits
Reach 1000 edits
Help this wiki
Become a trusted and helpful member
Become a rollback
Community content is available under
CC-BY-SA
unless otherwise noted.