Jack McKalling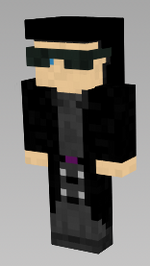 | | | |
| --- | --- | --- |
| " | It is just as difficult to convince people of the truth if they don't believe it, as it is to convince them that their beliefs aren't true. | " |
| | — Jack McKalling; may 2011 | |
| | | |
| --- | --- | --- |
| " | There is only one book in the whole wide world that can explain your dreams. So if you have an open mind, you can read it right there. | " |
| | — Jack McKalling; december 2018 | |
Welcome and introduction
[
]
Hi there, just call me Jack. Although I use this full name and avatar everywhere on the net, it isn't actually my birth name. I'm not going to share that personal information. In fact, I believe everyone should have a (real-looking) alias while surfing, not only because it's cool, but because the medium isn't as personal as being face to face. Privacy is more important than your real life name. What is important, is that the name you use to identify yourself, is in fact your real name.
About myself, I can say that I'm bilingual, ambidextrous, really tall and older than most players. Not shy to perform tedious tasks, I have a high level of detail, perfectionism and dedication. I've got some experience setting up, running and contributing to an instance of MediaWiki. I am a senior programmer and web developer in my spare time, and I have 20 years of experience with many, many programming languages, including Java, JavaScript, CSS, PHP, SQL and C#. I put this technical experience to use here by helping out where I see that I can. I also work on some of my own programming projects, including my own game engine and game editor, while I keep an eye on the wiki and occasionally playing the vanilla game or a modpack.
Minecraft
[
]
For a few years now I've been playing Minecraft, and I like to reflect doing that technical stuff in the game as well. Inventing, automating, figuring out, researching, and perfecting what I have already is what I love to do. In terms of play style, I guess I'm a solo player. But I've worked in teams too, such as moderating on the Chroma Hills server.
Some of my proud minecraft inventions:
Redstone Inc.TM (imaginary company label)
Moo MachineTM (breed & forget cooked steak machine)
JANETTM ("Jack's Nether Transport")
Fully Automated Sugarcane Machine
Every now and then I'd also like to play with words and phrases. Some of my favourites:
Automation, Machines, Factory, Iron Golem Farm, The Mines, Extreme Hills, Jack-of-all-trades (it's my name!)
"Am I correct to assume (...)?"
"Words come in all sizes. But even if they suit you well, it doesn't mean they are said at the right moment"
Snapshots
[
]
For a long time, I've not been able to play snapshots effectively. I've had problems with my profile settings overwriting eachother and had lack of memory issues. Thanks to a very informative chat on Discord with someone I was able to resolve these issues and I'm now playing the latest snapshot with a lot of enthusiasm. I'm keeping track of a lot of bugs, at the moment of writing over 70 of them, and it's a lot of fun. But I'm very new to doing this, and although I've got a special build for this in a special world, I still can't test everything on this computer. But if you need help with testing stuff out, I'm happy to help when I got the time!
Previous IP addresses
[
]
I have used the following IP addresses to edit pages before I registered an account, but I have a different address now:
Useful links
[
]
Here are some links in general:
Editing
[
]
Patrolling
[
]
Overviews
[
]
Communications
[
]