Turtle Egg
First Appearance
1.13 (Snapshot 18w07a)
Tool Used
Any
Technical Name
minecraft:turtle_egg
Stackable

64
Flammable

Luminosity

Transparency

Renewable
Come on! Grow up!

This article is a Minecraft Wiki stub. You can help by expanding the page.
A turtle egg is a block that was added to Minecraft in 1.13 - The Update Aquatic.
The new Turtle mobs, which were also added in this update, hatch from these blocks. These eggs can be found in various sizes and are covered in green spots.[1] Turtle eggs spawn in "clusters" (or "nests") along shorelines. Each cluster can have up to 4 eggs. Turtle eggs can only be obtained with a Silk Touch tool as the eggs will break and drop nothing if mined with a nonenchanted tool.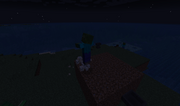 Trivia
Zombies (all variants excluding the zombie horse) can trample over turtle eggs which will destroy them.

Players can also destroy the eggs by jumping on them.
Dropped items or falling anvils have a slight chance of destroying the eggs.

Turtle eggs will only hatch at night.
References