This article is about a feature in an April Fools update. For the torch can burn out in the normal game, see
Redstone Torch
.
This article is a stub.
You can help by
expanding it
.
Instructions: Instead of talking about it's history, talk about how it worked in the joke snapshot

This article documents an April Fools' joke.
This feature was exclusively part of a joke version and is not currently planned for addition to regular Minecraft.
It is documented here on the wiki due to being officially-released content by Mojang Studios, even if not present in a final version.
Torch (Burnt-out)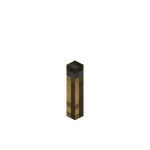 The burnt-out torch is a joke feature. After a normal lit torch burns out, the burnt-out torch appears.
Obtaining
[
]
Breaking
[
]
A burnt-out torch breaks instantly and drops itself when broken using anything. Tools do not lose durability when used to break burnt-out torches.
Torch
[
]
When the torch is placed it will, after some time[needs in-game testing], turn into a burnt-out torch.
Usage
[
]
Torch
[
]
Burnt-out torches can be re-lit with flint and steel, turning them back into regular torches.
History
[
]