Tinted Glass
This article is about the block that blocks light. For the dyeable glass, see
Stained Glass
. For the block from the April Fools' version, see
Java Edition 2.0
.
This article describes content that may be included in Java Edition.
This content has appeared in
Java Edition 1.17
development versions, but the full update containing it has not been released yet.
Tinted glass is a block that blocks light while being visually transparent.
Obtaining
[
edit
]
Breaking
[
edit
]
Tinted glass drops as an item when broken with any tool or by hand, unlike other glass.
Block

Tinted Glass

Hardness
0.3
Breaking time
Default
0.45
Crafting
[
edit
]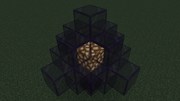 Tinted glass behaves like an opaque block, blocking light completely, despite being visually translucent. However, mobs do not suffocate if inside it, like regular glass.
Data values
[
edit
]
| Name | Namespaced ID | Form | Translation key |
| --- | --- | --- | --- |
| Tinted Glass | tinted_glass | Block & Item | block.minecraft.tinted_glass |
History
[
edit
]
Issues relating to "Tinted Glass" are maintained on the bug tracker. Report issues there.
Tinted glass shares the same name as a block in the Java Edition 2.0 April Fools' update.