Minecraft Interactive Experience
Play Sound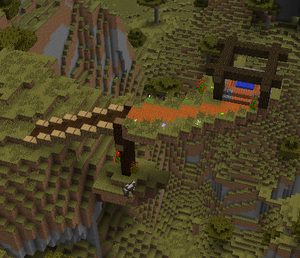 The Update that Changed the World is the name for Java Edition version 1.7.2, a major update released on October 25, 2013. It added many new features such as a new terrain generator, many new biomes and biome variations, stained glass, red sand, new tree types, a new spawn system, new fish and a new fishing system with rewards, many new flowers, many more customization options, custom-size Nether portals up to 23×23, command blocks in minecarts, and many new commands.
Development began two months after 1.6.2 was released. Fourteen development snapshots were released, from 13w36a to 13w43a. Several iterations of the launcher were released during this time period, from 1.2.3 to 1.2.8. Also during the development period, 1.6.4 was released. Nearer the end of the snapshot cycle for the 1.7.2 update, Mojang focused primarily on fixing bugs, rather than adding new features.
The official name for the update, "The Update that Changed the World",[1] was only announced three days prior to the 1.7.2 release on the Minecraft update Tumblr (which was displayed in the old launcher).
Mojang released the 1.7 pre-release on October 22, 2013, the 1.7.1 pre-release on October 23, and the 1.7.2 pre-release on October 25, shortly before the official release of the update.
Notable features
[
]
Notable additions:
Notable changes:
Further revisions
[
]
References
[
]