This article is about the specific update to textures which took place in Java Edition 1.14 and Bedrock Edition 1.10.0. For an extensive history of block texture changes throughout the game's lifetime, see
History of textures
.

This page uses many images.
It is not recommended for people with limited or slow internet connections to read through this page.
Texture Update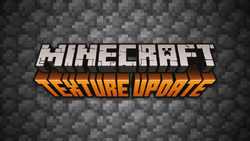 Download

See § Downloads

Release date

Java Edition:
April 23, 2019 (with 1.14)
Bedrock Edition:
March 19, 2019 (with 1.10.0)
PlayStation 4 Edition:
April 15, 2019 (with 1.90)
"

WHAT IS JAPPA DOING TO MY MINECRAFT?
Changing the textures! Except for a few, like the Creeper.
Across all versions? YEP, both on Java and Bedrock. You cannot escape my sweet, sweet textures.


When? Soon! In the Beta Resource Pack, where all my beloved pixels live.

"
— Jasper "JAPPA" Boerstra[1]
The Texture Update is an update released in Java Edition 1.14[2], Bedrock Edition 1.10.0[3] (with further amendments in Bedrock Edition 1.11.0), and PlayStation 4 Edition 1.90. The update changes most of the textures in the game,[4] except for a few iconic textures like the creeper. The textures were developed primarily by JAPPA (Jasper Boerstra). The original textures (with the exception of leather horse armor) are available as a resource pack/texture pack built in-game‌[Java Edition only] or as a separate download‌[Bedrock Edition only] (named "Programmer Art" in Java Edition, and "Classic Textures" in Bedrock Edition).[5][6]
Textures
[
]
Blocks
[
]
Natural blocks
[
]
Plants
[
]
Leaves
[
]
Manufactured
[
]
Utility
[
]
Mechanism
[
]
Creative only
[
]
Items
[
]
Raw Materials
[
]
Transport
[
]
Food
[
]
Plants
[
]
Dyes
[
]
Tools
[
]
Weapons
[
]
Armor
[
]
Utility
[
]
Mechanism
[
]
Manufactured
[
]
Potions
[
]
Creative only
[
]
Entities
[
]
Passive
[
]
Neutral
[
]
Hostile
[
]
Transport
[
]
Miscellaneous
[
]
GUI
[
]
Effect
[
]