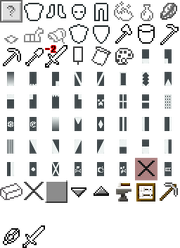 This page would benefit from the addition of more images.
Please remove this notice once you've added suitable images to the article.
The specific instructions are: Bundle + icon
This template displays an inventory image for empty slots.
Parameters
Name
Usage
|1=
Sets the image.
|link=
Sets the link for the image and the optional text. If unset or set to none, no link is added
Supports both internal and external links

|text=
If set, the value is displayed as text after the image.
Example
{{SlotSprite|Offhand}}

Available images
Banner Patterns
Per Bend Sinister Inverted
See also
Minecraft
Minecraft (legacy)
Minecraft Dungeons
Other