This templates creates a page link with an associated sprite image on the left side using the IDs from Template:LegacyBlockSprite.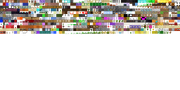 Parameters
Name
Usage
|1=
Sets the sprite. Spaces within this parameter are replaced with dashes and letters are made lowercase.
Value may be a name or a number, though names are preferred
|link=
Sets the link for the sprite and the optional text. If unset or set to none, no link is added
Supports both internal and external links

|text=
If set, the value is displayed as text after the sprite.
Full List
Here is a full list of blocks:
Natural
chiseled-red-sandstone-je1-be1

chiseled-red-sandstone-je2

chiseled-sandstone-je1-be1

cut-red-sandstone-je1-be1

grass-block-side-overlay-texture-je1-be1

grass-block-top-texture-je3-be1

mossy-cobblestone-je1-be1

mossy-cobblestone-je2-be2

nether-wart-block-je1-be1

nether-wart-block-je2-be2

red-sandstone-bottom-je1-be1

red-sandstone-top-je1-be1
Wood
stripped-acacia-log-top-je1-be1

stripped-birch-log-top-je1-be1

stripped-crimson-stem-top-je1

stripped-dark-oak-log-top-je1-be1

stripped-jungle-log-top-je1-be1

stripped-oak-log-top-je1-be1

stripped-spruce-log-top-je1-be1

stripped-warped-stem-top-je1
Terracotta
cyan-glazed-terracotta-je1

magenta-glazed-terracotta-je1

orange-glazed-terracotta-je1

white-glazed-terracotta-je1
Manufactured
flower-pot-texture-je1-be1

green-concrete-powder-je1-be1

item-frame-texture-je1-be1

polished-andesite-je1-be1

polished-blackstone-bricks-je1

purpur-pillar-top-je1-be1

smooth-stone-slab-side-je1-be1
Bricks
chiseled-nether-bricks-je1

chiseled-stone-bricks-je1-be1

cracked-polished-blackstone-bricks-je1

cracked-stone-bricks-je1-be1

mossy-stone-bricks-je1-be1

prismarine-bricks-je1-be1

red-nether-bricks-je1-be1
Glass
black-stained-glass-je2-be1

black-stained-glass-pane-top-je1

blue-stained-glass-je2-be1

blue-stained-glass-je3-be2

blue-stained-glass-pane-top-je1

brown-stained-glass-je2-be1

brown-stained-glass-pane-top-je1

cyan-stained-glass-je2-be1

cyan-stained-glass-pane-top-je1

gray-stained-glass-je2-be1

gray-stained-glass-pane-top-je1

green-stained-glass-je2-be1

green-stained-glass-pane-top-je1

light-blue-stained-glass-je1

light-blue-stained-glass-je2-be1

light-blue-stained-glass-pane-top-je1

light-gray-stained-glass-je1

light-gray-stained-glass-je2-be1

light-gray-stained-glass-pane-top-je1

lime-stained-glass-je2-be1

lime-stained-glass-pane-top-je1

magenta-stained-glass-je1

magenta-stained-glass-je2-be1

magenta-stained-glass-pane-top-je1

orange-stained-glass-je2-be1

orange-stained-glass-pane-top-je1

pink-stained-glass-je2-be1

pink-stained-glass-pane-top-je1

purple-stained-glass-je2-be1

purple-stained-glass-pane-top-je1

red-stained-glass-je2-be1

red-stained-glass-je3-be2

red-stained-glass-pane-top-je1

white-stained-glass-je2-be1

white-stained-glass-pane-top-je1

yellow-stained-glass-je2-be1

yellow-stained-glass-pane-top-je1
Ore
deepslate-diamond-ore-je1

deepslate-redstone-ore-je1

nether-quartz-ore-je1-be1

redstone-powered-2-texture-je1

redstone-repeater-powered-texture-je1-be1

redstone-repeater-powered-texture-je2-be2

redstone-repeater-texture-je1-be1

redstone-repeater-texture-je2-be2

redstone-torch-off-je1-be1

repeating-command-block-back-je1-be1

repeating-command-block-conditional-je1-be1

repeating-command-block-front-je1-be1

repeating-command-block-side-je1-be1
Mineral Blocks
block-of-diamond-be1
block-of-diamond-je1

block-of-diamond-be2
block-of-diamond-je2

block-of-emerald-be1
block-of-emerald-je1-be1

block-of-gold-be1
block-of-gold-je2

block-of-gold-be2
block-of-gold-je3

block-of-redstone--je1-be1

chiseled-quartz-block-je1-be1

chiseled-quartz-block-top-je1-be1

lapis-lazuli-block-je1-be1

lapis-lazuli-block-je2-be2

quartz-block-bottom-je1-be1

quartz-pillar-top-je1-be1
Organic
brown-mushroom-block-je1-be1

large-fern-bottom-texture-je1-be1

large-fern-top-texture-je1-be1

mushroom-block-inside-je1-be1

red-mushroom-block-je1-be1

tall-grass-bottom-je1-be1

tall-grass-bottom-texture-je2-be2

tall-grass-top-texture-je2-be2
Leaves
jungle-leaves-fast-je1-be1

oak-leaves-texture-je3-be1

spruce-leaves-fast-texture-je1-be1

spruce-leaves-texture-je1-be1
Planks
acacia-planks-be1
acacia-planks-je1
Wool
black-wool-be1
black-wool-je1
Farm
cactus-side-be1
cactus-side-je2

cactus-top-be1
cactus-top-je2

chorus-flower-dead-texture-je1-be1

chorus-flower-texture-je1-be1

chorus-plant-texture-je1-be1

melon-stem-attached-texture-je1

melon-stem-attached-texture-je1-be1

nether-wart-age-0-je1-be1

nether-wart-age-1-je1-be1

nether-wart-age-2-je1-be1

pumpkin-stem-je2-texture-be1
Utility
acacia-door-bottom-be1
acacia-door-bottom-je1

acacia-door-top-be1
acacia-door-top-je1

birch-door-bottom-je1-be1

birch-door-bottom-je2-be2

brewing-stand-base-je1-be1

brewing-stand-texture-be1
brewing-stand-texture-je1

cartography-table-front-je1

cartography-table-side-je1

cartography-table-side1-je1

cartography-table-side2-je1

cartography-table-side3-je1

cartography-table-top-je1

cartography-table-top-je2

cauldron-inner-je1-texture-be1

cauldron-side-texture-je1-be1

cauldron-side-texture-je2-be2

cauldron-top-texture-je1-be1

cauldron-top-texture-je2-be2

chipped-anvil-top-texture-je1-be1

crafting-table-front-je1-be1

crafting-table-side-je1-be1

crafting-table-top-je1-be1

damaged-anvil-top-texture-je1-be1

dark-oak-door-bottom-je1-be1

dark-oak-door-bottom-je2-be2

dark-oak-door-top-je1-be1

dark-oak-door-top-je2-be2

enchanting-table-bottom-je1-be1

enchanting-table-bottom-je2

enchanting-table-bottom-je3

enchanting-table-side-je3

enchanting-table-texture-je1-be1

enchanting-table-texture-je2

enchanting-table-top-texture-je1-be1

fletching-table-front-je1

jungle-door-bottom-je1-be1

jungle-door-bottom-je2-be1

red-bed-feet-side-je1-be1

red-bed-feet-top-texture-je1-be1

red-bed-head-back-je1-be1

red-bed-head-side-je1-be1

red-bed-head-top-texture-je1-be1

spruce-door-bottom-je2-be1

stonecutter-side-texture-je1
Mechanisms
chain-command-block-back-je1-be1

chain-command-block-conditional-je1-be1

chain-command-block-front-je1-be1

chain-command-block-side-je1-be1

command-block-back-je1-be1

command-block-conditional-je1-be1

command-block-front-je1-be1

command-block-side-je1-be1

dropper-front-vertical-je1-be1

end-portal-frame-eye-texture-je2-be1

end-portal-frame-top-je1-be1

hopper-outside-texture-je1-be1

hopper-top-texture-je1-be1

piston-top-sticky-je1-be1

redstone-1-texture-je2-be1

redstone-2-texture-je2-be1

redstone-comparator-powered-texture-je1

redstone-comparator-powered-texture-je2-be1

redstone-comparator-powered-texture-je3

redstone-comparator-texture-je1

redstone-comparator-texture-je2-be1

redstone-lamp-lit-je2-be1

tripwire-hook-texture-je1-be1
Placeholders
fire-placeholder-be2 - Copy

nether-portal-placeholder-je1-be1
calibrated-sculk-sensor-side

calibrated-sculk-sensor-top
See also
Minecraft
Minecraft (legacy)
Minecraft Dungeons
Other