Please read the instructions below carefully before making some changes to the spritesheet
A sprite should have 1:1 pixel-size ratio with a canvas size of 24×24px;
If the sprite is larger than 24px, it should be rescaled such that it will be contained within the canvas.
Newly added sprites will look larger than the exisiting ones as they have different applied stylings.
This template displays an item sprite from the following sprite sheet: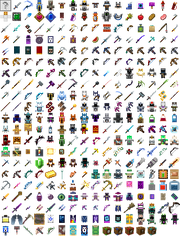 Parameters
Name
Usage
|1=
Sets the image.
|link=
Sets the link for the image and the optional text. If unset or set to none, no link is added
Supports both internal and external links

|text=
If set, the value is displayed as text after the image.
|scale=
Sets the scale of the image. If unset the default parameter is 1.
Example
{{DungeonsItemSprite|Sword}}

Available images
Armor
emerald-armor
emerald-gear
Artifacts
satchel-of-elements
satchel-of-the-elements

scatter-mine
scatter-mines
Consumables
potion-of-water-breathing
Melee weapons
diamond-mountaineer-axe
diamond-mountaineer-pick

gold-mountaineer-axe
gold-mountaineer-pick

mountaineer-axe
mountaineer-pick

the-beginning-and-the-end

whirlwind
Whirlwind (double axe)
Ranged weapons
burst-gale-bow
burst-gust-bow

echo-of-the-valley
echo-of-the-valley-bow
See also
Minecraft
Minecraft (legacy)
Minecraft Dungeons
Other