This page describes a MinecraftEdu feature.
This feature is available only in
MinecraftEdu
, an edition of the game that has been officially discontinued.
Development and support for
MinecraftEdu
has stopped.
Teleport Block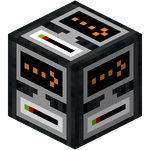 Teleport block is a block used to teleport.
Usage
[
]
Teleport blocks teleport the player to the location that the player set in the world.
Data Values
[
]
| Name | Identifier | Translation key |
| --- | --- | --- |
| Teleport Block | blockTeleport | ? |
History
[
]
Blocks
Biota
Wood/Hypha
Plant
Fungus
Fauna
Faunal Product
Algae
Building

Ornamental
Mineral Block
Structural
Lighting
BE & EE only