Minecraft Interactive Experience
Play Sound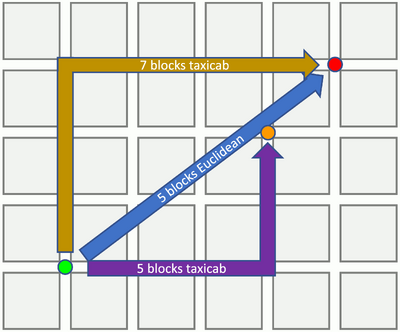 Taxicab distance, also known as rectilinear distance, city block distance, Manhattan distance, and other names, is a metric in taxicab geometry for measuring distance, as an alternative to Euclidean distance (straight-line, or "as the crow flies"). Minecraft uses taxicab distance as an efficient range measurement in several elements of the game.
Calculation
[
]
Minecraft measures the distance between two points in three-dimensional space in one of two ways, Euclidean distance or taxicab distance, depending on whether geometric accuracy or calculation efficiency is required.
Euclidean distance
Given two points in 3-D space
and , the straight-line distance (Euclidean distance) between them is:
This is geometrically the most accurate calculation. However, if the square root operation needs to be done many times during a game tick, the calculation is processor intensive, particularly on mobile devices that may have slow processors. Too many processor-intensive operations can introduce lag in the game. Minecraft uses Euclidean distance calculations in cases that are relatively infrequent or when accuracy is required (see below).
Taxicab distance
The taxicab distance is a simplified calculation that eliminates the square root and squaring operations by simply calculating the absolute value (positive value) of the difference between each coordinate value:
This is a less accurate but more efficient calculation suitable for processing numerous or rapidly-repeating calculations during a game tick. In Minecraft, the most obvious consequence of this calculation is that a taxicab "circle" drawn with a constant taxicab radius appears as a diamond (such as torch illumination), in which the taxicab radius equals the Euclidean radius only in the four cardinal directions (north, south, east, west), and the radius is shorter in all other directions. Similarly, in three dimensions, a taxicab "sphere" appears as an octahedron.
Usage in Minecraft

[

]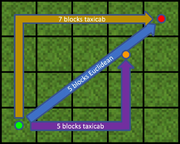 Taxicab
[
]
Minecraft makes use of taxicab distance in various situations:
Euclidean
[
]
Situations in which Minecraft calculates Euclidean distance:
See also
[
]