Line 57:
Line 57:
 
 
 

::Yilante, please don't use the wiki as if it were a chat site for discussing the game. The wiki article talk pages are for discussing ways to improve articles, not for discussing the topics themselves. A better place for sharing ideas about the game is the [http://www.minecraftforum.net/forums Minecraft Forums site]. – [[User:Auldrick|Auldrick]] <small>([[User talk:Auldrick|talk]] &middot; [[Special:Contributions/Auldrick|contribs]])</small> 05:05, 6 February 2018 (UTC)

 

::Yilante, please don't use the wiki as if it were a chat site for discussing the game. The wiki article talk pages are for discussing ways to improve articles, not for discussing the topics themselves. A better place for sharing ideas about the game is the [http://www.minecraftforum.net/forums Minecraft Forums site]. – [[User:Auldrick|Auldrick]] <small>([[User talk:Auldrick|talk]] &middot; [[Special:Contributions/Auldrick|contribs]])</small> 05:05, 6 February 2018 (UTC)

 
+
 
+

== Has anybody ever actually seen it naturally already lit on fire? ==

 
+
 
+

I can't remember if I have, and if so, of course it was in any case very rare. I was just trying to figure out if the New Nether, Basalt Deltas, Biome, actually Generates with Fire..?

 
+
 
+

Obviously, it would "go out," as nothing-But the Magma Blocks (and rarer Netherrack) there, would-remain Lit. But I don't seem to remember finding this there, nor anywhere else.

 
+
 
+

It just feels like Fire in the Nether, Doesn't just "Generate everywhere." And probably the Wiki should specify that in several sections, including "Fire." 8 /4 /22 1:12 p.m. Yilante [[Special:Contributions/73.93.146.237|73.93.146.237]] 20:15, 4 August 2022 (UTC)
---
Latest revision as of 20:15, 4 August 2022
Image[]
Can we get an animated image for this block? —Fenhl 07:22, 20 May 2016 (UTC)
Comparative[]
Hi BDJP007301, maybe I'm not seeing it, but in what sense would you say the sprint-jumping trivia was comparative? – Sealbudsman talk/contr 20:52, 25 May 2016 (UTC)
Spawn?[]
Do mobs spawn on magma cubes, since the light is only 3 ? 24.225.239.144 20:37, 8 June 2016 (UTC)
I believe not; check out MC-102835: "Hostile mobs can spawn on magma block". That was apparently fixed in a pre-release. So if they are spawning, it'd be a bug; they shouldn't be. – Sealbudsman talk/contr 20:46, 8 June 2016 (UTC)
Generate, Everywhere, around Lava Ocean level? or just by the "body of Lava," it /themselves??[]
I found a series of Veins of Magma Blocks which brought me to 9 Stacks (with only half of it Mined) of Magma Blocks within a short time, all in a Nether, Cave. Sure, Lava -came-in, twice, among roughly a dozen -and-a-half deposits, and since I had spare Buckets, filled more than 1 to make many Buckets of Lava, from both (so not just single, Lava, Source Blocks).
But otherwise, might it be that it's Not always next-to, such Lava? Sure, I'll go-Mine the rest, but I wonder about what the main page says about it Generating, only there, testing.. Yilante 108.215.209.201 22:06, 11 June 2016 (UTC)
37 Stacks.. 1 was by a Lava Ocean (like Obsidian Mining "without a" - Water - "net"), just 1 Lava Source Block, separate... so some areas Definitely easier than others. That's still basically 35+ /37 Stacks, Mined-safely, with no - even visual - contact with more than 1 Lava Source, Block.
I'd say "it's Everywhere," except more testing needed. Could just be close-r to Lava Ocean(s). Yilante 108.215.209.201 06:15, 13 June 2016 (UTC)
Yeah, thanks, might Edit that main page, if you didn't, yet. Mined roughly 55 Stacks with only finding Lava 1-2X, total @.@ Yilante 108.215.209.201 02:32, 15 June 2016 (UTC)
Magma block light[]
I've tested this with multiple vanilla worlds. Magma blocks only emit a small amount of light when exposed to sky light. I've attached screenshots - one shows my arrangement of magma blocks during the day, one at night, and the last at night after adding a torch to one of the magma blocks and removing it. The only one lit up is the torch block.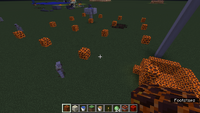 Diacherus (talk) 16:23, 12 June 2016 (UTC)Diacherus
I have also determined that mobs will spawn under the "sky lit" magma blocks.
Diacherus (talk) 16:32, 12 June 2016 (UTC)
When I tried it just now, the magma block is emitting the same light as the sky. Which includes it visually darkening at night. OTOH, it didn't prevent a zombie spawner from spawning zombies. I also noticed that placing another block above the magma block would kill the sky light, and if the magma block was already shining with "absorbed" block light it sometimes wouldn't pick up the sky light. Since what we're dealing with here is essentially a bug in lighting updates, this inconsistent behavior isn't too surprising. Anomie x (talk) 18:01, 12 June 2016 (UTC)

I would say that the block is simply transparent to light, not that it re-radiates light from elsewhere. — NickTheRed37 (issues' wall) 13:35, 14 June 2016 (UTC)

If covered/enclosed, it continues to radiate the light that last hit it. – Sealbudsman talk/contr 15:33, 14 June 2016 (UTC)

Sorry to necromance an old topic, but due to recent edits claiming this is a feature: this seems to be a bug (see: MC-102162). Under the right conditions, I can reliably reproduce this with magma blocks, lit redstone lamps, glowstone, and sea laterns, but not any other light emitting blocks. Jocopa3 (talk) 04:01, 5 February 2017 (UTC)
Immune mobs[]
I've discovered that not only Shulkers and Guardians are immune to damage from magma blocks, but also Creepers, at least while standing in a small water current. 138.246.2.200 13:32, 19 June 2017 (UTC)
This could be related to it "Bobbing" above the Block - not actually touching it - due to a continual Water, Flow, being high-enough, to maintain that - sufficient - distance. This seems to also be how it is on the edge of a Flow of Water and a Flow of Lava, when intersecting (touching on a flat side) - but not sometimes making Cobble - with one-another.
It's probably worth checking to see the exact-height on this - compare them, for different of such reactions - between different kinds of Blocks, which thereby do different things. This could be useful of course for Mob Grinders, but also general safety-awareness (including keeping desired Mobs from catching Afire).
Mainly, though, it might be usable in Designing Traps, and Water Flow provided item drops' potential movement(s). The way they seem to glitch-slightly in display at the edges of a Flow is much-like "Bobbing," otherwise. 108.215.209.201 04:08, 6 February 2018 (UTC) Yilante 2 /5 /18
Yilante, please don't use the wiki as if it were a chat site for discussing the game. The wiki article talk pages are for discussing ways to improve articles, not for discussing the topics themselves. A better place for sharing ideas about the game is the Minecraft Forums site. – Auldrick (talk · contribs) 05:05, 6 February 2018 (UTC)
Has anybody ever actually seen it naturally already lit on fire?[]
I can't remember if I have, and if so, of course it was in any case very rare. I was just trying to figure out if the New Nether, Basalt Deltas, Biome, actually Generates with Fire..?
Obviously, it would "go out," as nothing-But the Magma Blocks (and rarer Netherrack) there, would-remain Lit. But I don't seem to remember finding this there, nor anywhere else.
It just feels like Fire in the Nether, Doesn't just "Generate everywhere." And probably the Wiki should specify that in several sections, including "Fire." 8 /4 /22 1:12 p.m. Yilante 73.93.146.237 20:15, 4 August 2022 (UTC)