This page contains content on features that are part of Experimental Gameplay in Bedrock Edition.
These features may be properly added in a future update, but requires the "Wild Update" option toggled to be enabled in the current version.
This article describes a feature planned for Java Edition.
It has not appeared in any development versions yet, but is planned to be included in
Java Edition 1.19
.
A tadpole is a passive mob and the baby variant of the frog.
Spawning
[
]
Tadpoles currently don't spawn naturally. They can only be spawned by a spawn egg, through commands and by hatching frog eggs.
Behavior
[
]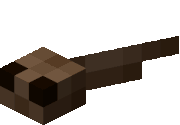 Tadpoles swim aimlessly in water. On land, they flop around like fish and seek out nearest water. They quickly die on land. Tadpoles shortly grow up into one of the variants of a frog depending on the place it grew up.[more information needed]
Unlike frogs, tadpoles are hunted by axolotls.
Data values
[
]
ID
[
]
History
[
]
Issues
[
]
Issues relating to "Tadpole" are maintained on the bug tracker. Report issues there.