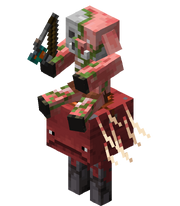 The Strider Jockey is a zombified piglin riding on a strider.
Spawning
[
]
Zombified piglins have a 1⁄30 chance to spawn on top of a strider, creating the strider jockey. The zombified piglin spawns with a warped fungus on a stick in its hand. They spawn in the Nether in lava oceans. Baby zombified piglins can ride on striders. On Halloween, the Zombified piglin has a 22.5% chance to spawn with a carved pumpkin on its head and, in Java Edition, a 2.5% chance with a jack o'lantern on its head.
Behavior
[
]
Strider jockeys are neutral towards the player, and angered if a nearby zombified piglin or either the strider or the zombified piglin is attacked. They will not purposefully go onto land unless angered.
Drops
[
]
The mobs each have the same drops, but the zombified piglin has an 8.5% chance to drop the Warped Fungus on a Stick it was holding.
It can also drop a saddle with an 8.5% chance, all the drops chance is increased by 1% per level of Looting.
Advancements
[
]
Icon
Advancement
In-game description
Parent
Actual requirements (if different)
Resource location
This Boat Has Legs

Ride a Strider with a Warped Fungus on a Stick
Nether

Boost

[1] a strider with a warped fungus on a stick.
nether/ride_strider
Adventure

Adventure, exploration, and combat
—
Kill any entity, or be killed by any entity.
adventure/root
Monster Hunter

Kill any hostile monster
Adventure
Kill one of these 34 mobs: Other mobs, if any, may be killed, but are ignored for this advancement.
adventure/kill_a_mob
Monsters Hunted

Kill one of every hostile monster
Monster Hunter
Kill each of these 34 mobs: Other mobs, if any, may be killed, but are ignored for this advancement.
adventure/kill_all_mobs
The Parrots and the Bats

Breed two animals together
Husbandry
Breed a pair of any of these 22 mobs:

A mule must be the result of breeding a horse and a donkey for this advancement as they are not breed-able together. Other breed-able mobs, if any, can be bred, but are ignored for this advancement.
husbandry/breed_an_animal
Two by Two

Breed all the animals!
The Parrots and the Bats
Breed a pair of each of these 21 mobs:

A trader llama does not count as a llama, and a mule must be the result of breeding a horse and a donkey for this advancement as they are not breed-able together. Other breed-able mobs, if any, can be bred, but are ignored for this advancement.
husbandry/bred_all_animals
History
[
]
References
[
]