Minecraft Interactive Experience
Play Sound
This article is about the mob. For the enchantment, see
Depth Strider
. For playable DLC character in Minecraft Dungeons with similar appearance, see
MCD:Strider Warrior
.
Striders are passive mobs native to the Nether. They can walk/stride on lava and be saddled by the player. A warped fungus on a stick is needed to control a strider, similar to how a pig is controlled by a carrot on a stick.
Spawning
[
]
Striders can spawn in every Nether biome. Two to four striders spawn on spaces of lava that are two blocks tall with an air block above. In Java Edition striders are the only passive mob in the nether, so spawning attempts are made every 400 game ticks. In Bedrock Edition striders share the animal population cap with hoglins and their spawn rate depends on biome, being impacted by the ability of other mobs to spawn at a given coordinate. For every strider that spawns, there is a 1 in 10 chance of an additional baby strider to spawn riding on top of the previous strider. This behavior is limited to one strider.[1] A baby strider on the adult strider continues to grow although it does not dismount the adult strider once it has grown up. Zombified piglins have a 1 in 30 chance of spawning on top of a strider. If this happens, the strider spawns with a saddle and the zombified piglin spawns carrying a warped fungus on a stick. The zombified piglin also does not despawn (except on Peaceful difficulty). If a strider spawns under lava, it rises out of the lava. in Bedrock Edition, baby striders spawn more commonly than adult striders do, including when spawned by a spawn egg.
Drops
[
]
Adult striders drop 2–5 string upon death. The maximum amount is increased by 1 per level of Looting, for a maximum of 2–8 with Looting III.‌[JE only][2]
Striders wearing a saddle always drop the saddle upon death, regardless of if they spawn wearing it or if a player puts it on them. The only way to remove a saddle from a strider is to kill the strider.
When an adult strider is killed by a player or tamed wolf, 1–2‌[JE only] / 1–3‌[BE only] experience is dropped.
Behavior
[
]
Lava does not damage striders. Unlike most mobs, striders can walk on top of lava without sinking.
Upon being harmed by another mob, striders attempt to flee for a few seconds while making "retreat" noises.
Striders are damaged by water, rain, and splash water bottles, which deal damage by 1

per splash water bottle or half-second in water or rain, which can kill them. While in water, they slowly sink while taking damage. Striders still take damage from rain even if they are in lava. However, they are not harmed when standing in a filled cauldron. They also cannot be harmed by snowfall or snowballs. They take extra damage from freezing in powder snow.
Unlike piglins and hoglins, striders can exist safely in the Overworld, as long as they are kept away from water and rain. Unlike some other mobs, striders do not zombify when leaving the Nether.
Striders outside of lava change to a dull purple color, change their expression to more of a frown, shiver, and their legs become slightly shorter. They also move slower when outside of lava.[3]
If a strider has the Speed effect applied to it, the strider moves faster on both land and lava (though its land speed is still considerably slower).
If a zombified piglin is riding a strider, the strider pursues the player if the zombified piglin is angered.
Due to a bug,[4] striders that fall from a height take fall damage when landing in lava.
A baby strider on an adult strider still grows into an adult. Apart from this, adult striders riding other adult striders do not spawn naturally. Baby striders not riding on an adult follow the closest adult strider.
Riding
[
]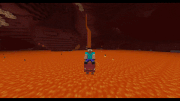 The player can ride on an adult strider using a saddle and can attach them to leads.
Similar to how pigs are controlled using a carrot on a stick, striders move forward automatically while their direction is influenced using a warped fungus on a stick, at a speed of 4.14 m/s if on a flat lava surface (such as the Nether lava sea) or 1.74 m/s if on land. Striders move much more slowly in flowing lava than on land.[more information needed] They walk especially slowly against the lava flow direction.
Warped fungus on a stick can be used, causing the strider to boost and walk at a greater speed[more information needed] and taking 1 point of durability from the warped fungus on a stick. They also follow players holding a warped fungus or a warped fungus on a stick. In Java Edition, saddled striders being ridden by players never move on their own accord (when not seeking lava within around 10 seconds) unless being directed. In Bedrock Edition, striders wander around freely when ridden by a player not directing it. Once in lava and unmounted, striders actively seek lava or wander around when not seeking lava.
Players riding striders into (flowing-only due to a bug[4]) lava from heights do not dismount if the strider submerges into the lava, and striders quickly rise back up to the surface if this happens. However, players risk getting burned by the lava while submerged.
A strider ridden into flowing lava slowly rises to the top. Fall damage does not affect striders that have dropped onto flowing lava, unlike the bug[4] for lava source blocks.
When ridden over land, striders automatically walk up any one block high slope. They also cross any 1-wide block gap or air space that is only one block higher - diagonally up - when ridden directly upward and not completely sideways to the slope.
When being ridden (by a player, zombified piglin, or another strider), a strider is not attracted to warped fungus or warped fungus on a stick other than that of the rider, even if not being directed by the rider.
To safely dismount from a strider, a player who does not have fire resistance may face a solid block within reach before dismounting to dismount onto that block[5], instead of at the strider's location (which is usually in lava[6]).
Striders can still be equipped with a saddle while another mob is riding it.
Just as a player cannot use a nether portal while astride a horse, the same is true for a player riding a strider. In addition it is not possible for a strider riding a strider to use a nether portal.
Breeding
[
]
If striders are given warped fungus, they breed to create baby striders, granting the player 1–7 experience orbs. The parent striders have a cooldown of about 5 minutes before they can breed again. All babies obtained through breeding take 20 minutes to grow up. The growth of baby striders can be slowly accelerated using warped fungus; each use takes 10% off of the remaining time to grow up.
Sounds
[
]
Achievements
[
]
Icon
Achievement
In-game description
Actual requirements (if different)
Gamerscore earned
Trophy type (PS4)
PS4
Other platforms
Feels Like Home
Take a Strider for a loooong [sic] ride on a lava lake in the Overworld.
In the Overworld, use a strider to ride on a lava lake for a distance of 50 meters from the point where the ride starts.
20G
Silver
Advancements
[
]
Icon
Advancement
In-game description
Parent
Actual requirements (if different)
Resource location
This Boat Has Legs

Ride a Strider with a Warped Fungus on a Stick
Nether

Boost

[7] a strider with a warped fungus on a stick.
nether/ride_strider
Feels Like Home

Take a Strider for a loooong ride on a lava lake in the Overworld
This Boat Has Legs
While riding a strider, travel fifty blocks in lava in the Overworld.
nether/ride_strider_in_overworld_lava
The Parrots and the Bats

Breed two animals together
Husbandry
Breed a pair of any of these 22 mobs:

A mule must be the result of breeding a horse and a donkey for this advancement as they are not breed-able together. Other breed-able mobs, if any, can be bred, but are ignored for this advancement.
husbandry/breed_an_animal
Two by Two

Breed all the animals!
The Parrots and the Bats
Breed a pair of each of these 22 mobs:

A trader llama does not count as a llama, and a mule must be the result of breeding a horse and a donkey for this advancement as they are not breed-able together. Other breed-able mobs, if any, can be bred, but are ignored for this advancement.
husbandry/bred_all_animals
Data values
[
]
ID
[
]
| Name | Identifier | Translation key |
| --- | --- | --- |
| Strider | strider | entity.minecraft.strider |
| Name | Identifier | Numeric ID | Translation key |
| --- | --- | --- | --- |
| Strider | strider | 125 | entity.strider.name |
Entity data
[
]
Striders have entity data associated with them that contains various properties.
Entity data

Additional fields for mobs that can breed
Tags common to all entities
Tags common to all mobs

 Saddle

: 1 or 0 (true/false) - true if the strider is saddled.
History
[
]

This page would benefit from the addition of more images.
Please remove this notice once you've added suitable images to the article.
The specific instructions are:
Strider jockey in bedrock edition
Issues
[
]
Issues relating to "Strider" are maintained on the bug tracker. Report issues there.
Trivia
[
]

Striders had a fin in their texture file. The fin wasn't visible in-game and was removed in 20w15a.
If commands are used to saddle a baby strider, and the player rides the baby strider, the player takes fire damage due to not being high enough to avoid the lava.
At one point in the strider's development, before it was added to the game, a strider out of lava would retract its legs and start to take damage while bouncing around until it died, similar to how fish suffocate when out of water. This feature was discarded for being "too sad".[10]
Part of the reason that striders drop string (from their bristles) was to answer the question of "how do piglins make crossbows?".[10]
The bobbing animation that the strider makes while walking was initially an accident. However, the developers thought it was "quirky and fun", so it was added as a feature.[10]
Gallery
[
]
Concept art
[
]
References
[
]