Come on! Grow up!

This article is a stub. You can help Minecraft Wiki by expanding the page.
Soul Soil is a block that was announced during MineCon Live 2019, and was  added in the 1.16 update. [1] It can be found in the soul sand valley biome in the Nether.
Crafting
Soul soil or Soul sand, a stick, and a piece of coal or charcoal can be used to craft soul fire torches.
Trivia
Soul soil slightly resembles soul sand.
Nether wart will not grow on soul soil.
The Wither can still be summoned with both Soul Sand and soul soil
If a player lights a soul soil or soul sand block on fire, they will get Soul fire.
Players will not slow down when walking on top of soul soil, unlike soul sand.
Gallery
Videos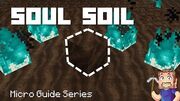 References
Community content is available under
CC-BY-SA
unless otherwise noted.