Soul Soil
Soul soil is a block naturally found only in the soul sand valley.
Obtaining
[
edit
]
Breaking
[
edit
]
Soul soil drops as an item when broken with any tool or by hand, but a shovel is the fastest way to break it.
Soul soil is renewable because a soul campfire that was crafted with Soul Sand, when broken without a Silk Touch tool, drops soul soil.
Block

Soul Soil

Hardness
0.5
Tool
Breaking time[A]
Default
0.75

Wooden

0.4

Stone

0.2

Iron

0.15

Diamond

0.1

Netherite

0.1

Golden

0.1
↑ Times are for unenchanted tools as wielded by players with no status effects, measured in seconds. For more information, see Breaking § Speed.
Natural generation
[
edit
]
Soul soil generates naturally in the soul sand valley biome.
Unlike soul sand, soul soil does not slow mobs down and does not create bubble columns.
Fire lit on soul soil becomes soul fire.
Withers
[
edit
]
4 blocks of soul soil (or soul sand) are used in the construction of a wither.
Lava on top of soul soil and directly adjacent to blue ice turns into basalt. Re-producing basalt this way can comprise a "basalt generator."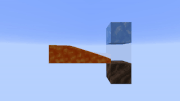 Crafting ingredient
[
edit
]
Bedrock Edition:[more information needed]
Data values
[
edit
]
Name
Namespaced ID
Block tags (JE)
Item tags (JE)
Form
Translation key
Soul Soil
soul_soil
soul_fire_base_blocks
soul_speed_blocks
wither_summon_base_blocks
mineable/shovel
soul_fire_base_blocks
Block & Item
block.minecraft.soul_soil
| Name | Namespaced ID | Numeric ID | Form | Translation key |
| --- | --- | --- | --- | --- |
| Soul Soil | soul_soil | 491 | Block & Item | tile.soul_soil.name |
History
[
edit
]
Issues relating to "Soul Soil" are maintained on the bug tracker. Report issues there.
Gallery
[
edit
]
References
[
edit
]