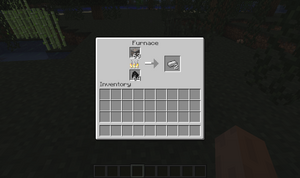 Smelting (also known as cooking, baking, burning, or producing) is the main method to "smelt". It is an action using a furnace, blast furnace, smoker, or a campfire where a player converts ore or another block into something else by heating it with fuel. For example, one stick/sapling/bowl smelts 0.5 blocks, wood/wood plank smelts 1.5 blocks, coal/charcoal smelts 8 blocks, a block of coal smelts 80 blocks, and a lava bucket smelts 100 blocks. Each item takes ten seconds to be smelt by default.
Fuel Types and Smelt Times
Trivia
If a player configures the settings by using Data Packs (1.13+), by changing the cooking time to a smaller value (smaller than 200), the smelting length can be quicker.

Increasing the value beyond the default (200) will slow down the cooking time.

If a player breaks the furnace while it's smelting something, no experience will drop, but any items inside will drop.
Community content is available under
CC-BY-SA
unless otherwise noted.