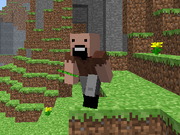 The Seecret Updates were a series of ten updates released by Notch during the Infdev and Alpha development stages of Minecraft, often without announcement. They were named after the day of the week on which they were released: the first nine Seecret Friday Updates were released on Fridays from June 18 to September 10, 2010, and the tenth Seecret Saturday Update was released on Saturday, September 18, 2010. Seecret Updates usually included major new features: minecarts and boats, redstone, and sneaking were all introduced in these updates, along with a number of other significant features.
Notch sometimes announced or confirmed upcoming Seecret Updates on Twitter. On June 18, before the release of Seecret Friday Update 1, he tweeted that he was going to "do a seecret update".[1] On July 2, he announced that Seecret Friday Update 3 was coming that night.[2] On July 29, he tweeted that there was "a real chance I might forget to do the update",[3] in reference to Seecret Friday Update 7, released the next day. On September 2, he refused to do a "Seecret Monday Update", instead confirming that "the secret update will be on friday as.. er.. "normal"",[4] in reference to Seecret Friday Update 9, which he subsequently confirmed on September 9 and 10 would be coming later on the 10th.[5][6]
Seecret Updates were discontinued before the Halloween Update; Notch tweeted on October 7 that they were "postponed until we know what to do with them" and that he was "focusing on the Halloween update and lawyers".[7] The last mention of them on The Word of Notch was in a blog post made on September 24, where he wrote "I'd really like to do a Seecret Friday update, both to keep you guys happy and to actually get to do some programming myself, but I need to wind down",[8] and the last time he tweeted about them was on November 10, where he wrote "I liked the Friday updates, but Saturday fixes suck."[9]
Updates
[
]
Update
Date
Version
Features
Seecret Friday 1[10]
June 18, 2010
Minecraft Infdev
Minecart and rails
Seecret Friday 2[11]
June 25, 2010
Dungeons, spawners and saddles
Seecret Friday 3[12]
July 2, 2010
Alpha v1.0.1
Redstone ore, redstone, redstone torches, levers, stone button, wooden and stone pressure plates, iron door
Seecret Friday 4[13]
July 9, 2010
Alpha v1.0.4
Winter Mode, snowfall, snow and ice
Seecret Friday 5[14]
July 16, 2010
Alpha v1.0.6
Boats, cacti, large trees
Seecret Friday 6[15]
July 23, 2010
Alpha v1.0.11
Sugar cane, paper, books, bookshelves, clay, clay blocks, brick, slimes, slimeballs, milk
Seecret Friday 7[16]
July 30, 2010
Alpha v1.0.14
Chickens, eggs, jukeboxes, music discs, furnace minecarts and chest minecarts
Seecret Friday 8[17]
August 20, 2010
Alpha v1.0.17
Fences, spider jockeys and multiplayer updates
Seecret Friday 9[18]
September 10, 2010
Alpha v1.1.0
Compass and server-side inventory
Seecret Saturday[19][20]
September 18, 2010
Alpha v1.1.1
Sneaking, new paintings and fishing rod
Trivia
[
]
References
[
]