A river is common technical biome. Rivers serve as borders between various other biomes, and usually lead to oceans, although they can also form loops.
Description
[
]
Rivers are thin, lengthy biomes that frequently generate across the world. They typically serve as a division between two different biomes, but can also split a single biome in two. They are filled with water up to sea level, though rivers may run dry in certain areas due to higher than usual elevation. Exposed grass in rivers takes on a bluish-green hue. Riverbeds consist of dirt, sand, gravel, and clay, and are one of the few places where clay generates, alongside lakes, swamp marshes and ocean hilltops. Seagrass generates atop the riverbed, and sugar cane occasionally generates on the riverbank. Neither passive nor hostile‌[BE only] mobs (except drowned) spawn within river biomes themselves, but frequently wander into them from the surrounding biomes if they can spawn there. Drowned can spawn underwater, as can salmon and squid.
When generated between two high-elevation biomes, such as mountains and hills, river biomes may pose a fall damage hazard, but are otherwise mostly harmless.
If this biome is used to generate a buffet world, it appears as a shallow ocean, of no more than 10 blocks deep, with mostly sand, dirt, clay and gravel floor and infrequent grassy islands that rarely contain oak trees and, more rarely, pumpkins.
Variants
[
]
There are two different river biomes.
River
[
]
River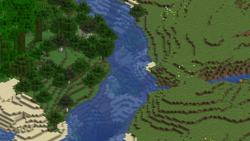 | | |
| --- | --- |
| Type | Medium/Lush |
| Rarity | Common |
| Temperature | 0.5 |
| Structures | |
| Blocks | |
The standard river variant. Salmon and squid may spawn here. This is the third most common biome in the game, only behind plains and forest.
↑

Spawn attempt succeeds only in slime chunks.
In Bedrock Edition:
Mob

Spawn chance

Group size

Water category

Salmon

16⁄16
3–5
Passive category

Squid

8⁄8
2–4
Hostile category

Drowned

5⁄5
2–4
Frozen River
[
]
Frozen River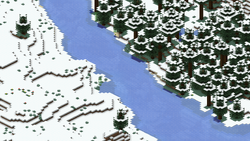 Frozen Rivers replace regular rivers, and generate only within snowy tundra biomes. As the name implies, the top layer of water is entirely frozen, though below the ice is the usual sand, gravel, dirt, and clay, though seagrass does not generate on the riverbed. While sugar cane can generate alongside a frozen riverbank, it quickly uproots itself after generation due to the water being frozen.
In Bedrock Edition, along with salmon and drowned, strays, rabbits, and polar bears can spawn in frozen rivers. No other hostile mobs can spawn, even underground.
Frozen rivers can cut through snowy tundra only, not its variants; a river that separates the snowy tundra from any other biome is only partially frozen.
In Java Edition, frozen rivers use the same mob spawning chances as rivers for water and ambient categories. As for the others:
↑

Spawn attempt succeeds only in slime chunks.
In Bedrock Edition, frozen rivers use the same mob spawning chances as rivers for water categories. As for the others:
↑

80% of spawned rabbits are white and 20% are black and white.
Data values
[
]
ID
[
]
| Name | Resource location | Translation key |
| --- | --- | --- |
| River | river | biome.minecraft.river |
| Frozen River | frozen_river | biome.minecraft.frozen_river |
| Name | Resource location | Numeric ID |
| --- | --- | --- |
| [No displayed name] | river | 7 |
| [No displayed name] | frozen_river | 11 |
History
[
]
This section is missing information about Legacy Console Edition.
Please expand the section to include this information. Further details may exist on the
talk page
.
Java Edition Beta
August 18, 2011
Notch tweeted a screenshot of a revamped river biome.
1.8
Pre-release
Added rivers as a separate biome. Previously, were generated as part of the terrain generation algorithm.
Java Edition
1.0.0
Beta 1.9 Prerelease
Added frozen river.
1.13
18w08b
Added salmon, which spawn in rivers.
18w11a
Added drowneds, which spawn in rivers.
18w14a
Seagrass now generates in rivers.
18w16a
The ID of frozen river has been changed from FrozenRiver to Frozen River.
1.13.1
18w31a
Squids now only spawn in oceans and rivers, making them slightly more common in rivers, as there are fewer places elsewhere for them to spawn.
Upcoming Java Edition
1.18
experimental snapshot 4
River biomes are less likely to form a steep, dry river gorge in mountainous terrain. Instead, they either carve a fjord through it, or they raise the terrain to form a valley.
Rivers that go through swamps tend to be more shallow.
experimental snapshot 5
Rivers are less likely to be super deep or get choked off in flat areas.
Rivers tend to get shallow and merge with swamps instead of carving through them.
Pocket Edition Alpha
v0.1.0
Added biomes, including rivers.
v0.13.0
build 1
Added rabbits, which can spawn in frozen rivers.
v0.15.0
build 1
Added strays, which spawn in frozen river biomes.
Pocket Edition
1.0.0
alpha 0.17.0.1
Added polar bears, which can spawn in frozen rivers.
Bedrock Edition
1.4.0
beta 1.2.13.8
Added drowned, which spawn in river biomes.
beta 1.2.14.2
Added salmon, which spawn in rivers.
Rivers now generate with seagrass.
1.13.0
beta 1.13.0.9
Squid can now spawn in rivers.
Trivia
[
]
Lakes can technically still generate in the waters of rivers and frozen rivers, when either are used as buffet worlds. This can be more clearly seen in frozen river worlds, as holes in the ice.
Regular rivers can still generate cutting through frozen rivers.
Both types of rivers override ravines at or close to the surface level, causing the ravine to be abruptly cut off by a wall of stone. However, if the ravine is long enough, it may continue on the other side of the river.

Oddly, ravines can generate underground in river biomes without being cut off.
Gallery
[
]
See also
[
]