For the Bedrock Edition Realms service, see
Realms Plus
.

Minecraft Realms is an official subscription-based server hosting service that allows players to create and manage their own private Minecraft servers. Hosted by Mojang, Realms provides a simple way to create servers and allows the owner to manage them from inside the game, without knowledge of hosting on the internet. Realms also allows players to choose from a list of minigames to play temporarily, as well as several pre-made world templates, adventure maps, experience maps, and inspiration maps, all made by Realms community map makers. Maps are updated by Mojang sporadically, ranging from a few days to as recently as one to two months. Realms are not intended for large public servers, but for groups of friends or as a family server.[1]
Requirements
[
]
Realms is a service that can be used only by players who meet these requirements:[2]
The player must have purchased the full version of Java Edition
The player must have a stable internet connection
The player must be age 13 years or older to join the Minecraft Realms community [

verify

]
Subscriptions
[
]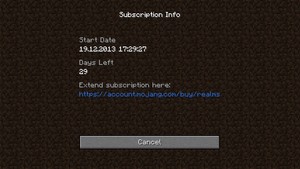 Manage the Realms subscriptions here.
Realms is a subscription-based service. The link above goes to the player's Minecraft account page, which offers options to extend a current subscription or buy a new one ($7.99 per month).[3]
There are two types of subscriptions: a reoccurring monthly charge that automatically renews the subscription every 30 days (this can be cancelled at any time), or a one time charge that comes in 30-day, 90-day, and 180-day packages and needs to be renewed manually.[3]
All players are able to have a 30-day free Realms trial, providing they have not already had a free trial on their account before.[3]
Using Realms
[
]
Maps
[
]
This section is missing information about maps that were added to Java Realms in 2013, March 2017, and March 2018, as well as the current availability of maps.
Please expand the section to include this information. Further details may exist on the
talk page
.
Users can choose to temporarily replace their world with a Minigame or permanently replace their world with maps from the following categories: World templates, Adventures, Experiences, or Inspiration. Most commands or options cannot be used while the realm is running a minigame. These maps are selected from community submissions by the Minecraft Content Team. Certain maps may not be available on Realms due to being phased out or incompatible with the current update. Users cannot delete a map, but they can reset it.
2013-2014
[
]
2015
[
]
Release Date
Map Name
Creator(s)
Availability
July 17th, 2015[note 3]
Random Skies
Dragnoz
No
July 27th, 2015
Splatter
SethBling
No
August 14th, 2015[note 3]
Sharks vs. Steve
TwitchNitr0
No
August 20th, 2015[4][5][6][note 3]
Point Runner
CitrioN and Xisumavoid
No
Labyrinth
samasaurus6, buckingirl4, and MineyCow
No
Zomberman
Brutec
No
August 21st, 2015
The Muk-Luk Lodge
The VoxelBox
No
Silent Ville
Springstof
Yes
Build-off Parkour
slicedlime
No
A Treemendous Spawn
The VoxelBox
No
Desert Ruins
AKAMC
No
Bubble Shooter
slicedlime
No
August 28th, 2015[note 4]
Skylight
Springstof
Yes
September 28th, 2015[note 4]
The Dropper
Bigre
No
October 5th, 2015[note 4]
Lucid Nightmare
Farenheit
No
October 20th, 2015[note 4]
SunBurn: Reforged
Wire Segal and The Destruc7ion
No
October 21st, 2015[note 4]
Monster's Portal
Vilder50 and Matdog1999
No
October 22nd, 2015[note 4]
UHC BLOX
gerrybrano
No
October 27th, 2015[note 4]
CastleRise: Brother's Feud
Kanoc
No
November 4th, 2015[note 4]
The Heist
Cubehamster, samasaurus6, and Wubba
No
November 12th, 2015[note 5]
Wayward Wonders Mini
M0ndy
No
December 9th, 2015[note 5]
Sparrenhout
Springstof
Yes
December 10th, 2015[note 5]
Flower Island
Emoluvjd2
Yes
December 14th, 2015[note 5]
3D Minesweeper
The Al_T
Yes
December 17th, 2015[note 5]
Entrapment
slicedlime
No
2016
[
]
Release Date
Map Name
Creator(s)
Availability
January 7th, 2016[note 5]
Tranquil Temple
K1ll1er, ImLeeRii, and Mouldy_Burrito
Yes
January 8th, 2016[note 5]
Staalhamer
Springstof and Jappie172
Yes
January 12th, 2016[note 5]
The Genius Machine
The VoxelBox
No
January 20th, 2016[7][8][9][note 5]
Zanafar Salt Mines
Pixelbat
No
Winter's Hearth
Nobleman and Paaaaaaat
No
Jungle Retreat
Nobleman, Paaaaaaat, and Vek
No
January 21st, 2016[10][11][note 5]
TOTAL HOUSE BOMBOVER
Team Wooloo
No
Jump Arena
NateT_Bird
No
February 2nd, 2016[note 5]
Half Heart Race
Team Wooloo
No
February 29th, 2016[note 6]
G.A.T.O.S. (Get At The Other Side)
No
March 7th, 2016[note 6]
Amrath
Gemoz
Yes
March 21st, 2016[12][13][note 6]
Replica
Mlakuss
No
Desert Nook
Nobleman, Paaaaaaat, and Vek
No
March 30th, 2016[note 6]
We are the Rangers
Blockworks, Dragnoz, and samasaurus6
No
April 5th, 2016[note 6]
Western Dodge
Gemoz
No
April 11th, 2016[14][15][note 6]
Don't Go Insane
Datenegassie
No
Minecar Racing
McMakistein
No
April 12th, 2016[16][17][note 6]
Oscilight: The Light Shadow
Dwittyy
No
Floral Ranch
Pe3tr and Twett
No
April 12th, 2016
Sunburn: Phoenix
Wire Segal and The Destruc7ion
No
April 22nd, 2016
Carrot Catcher
Gemoz
No
April 28th, 2016[note 7]
Elleroth
Pe3tr and Twett
Yes
May 10th, 2016[note 7]
Terra Swoop Force
Noxcrew
Yes
May 16th, 2016[note 7]
The Present Factory
qwertyuiopthepie, wiskeyweasel, and NateT_Bird
No
May 27th, 2016[note 7]
ZeGame
Jesper the End
No
June 7th, 2016[note 7]
Steller Impact
Springstof
No
June 10th, 2016[18][19][20][note 7]
Dragon's Roost
Inryft, Floodplain, and Nobleman
No
Captive Minecraft IV: Winter Realm
TheFarlanders
No
Infinity Dungeon
Jigarbov
No
June 28th, 2016[note 8]
Blocked in Combat
PingiPuck, pandymit, EpicMelon, and DarkPiep
No
July 14th, 2016[note 8]
Makers Spleef II
MineMakers Team
Yes
July 18th, 2016[note 8]
Negentropy
Plagiatus
No
August 1st, 2016[note 8]
Mushroom Plantation
Ug
No
August 8th, 2016[note 8]
Aurora Glade
Mangelware
Yes
August 9th, 2016[note 8]
Murky Manor
Nobleman, Defran, and Vek
No
August 10th, 2016[note 8]
Where Next?
TCPBoneHound
No
August 15th, 2016[note 8]
Clambering Cubes
bananenbroek4
No
August 16th, 2016[21][22][23][note 8]
Ludo
Plagiatus, dragonmaster95, and Vilder50
No
Ghost Town
Pe3tr, Twett, and Tiliba
No
Wither's Challenge
Xiantis and Hypixel
No
August 23rd, 2016[24][25][note 8]
Jeontong Village
Mangelware
No
Imperium
Vilder 50 and Pollieboy
No
August 24th, 2016[note 8]
Reddern
Pe3tr, Twett, Tiliba
No
September 16th, 2016
Makers Wars
MineMakers Team
No
Chicken's Courage
Mithey
No
Waldur
Gemoz, Pebble, and Kovu
Yes
October 14th, 2016
Valley of the Kings
The Broken Buttons
Yes
Canopy Dream
Theticman30 and ChildOfStars
Yes
Gray
CommanderRedstone
No
Sad Panda Adventures
Mithey
No
October 29th, 2016
Herobrine's Mansion
Hypixel and Xiantis
No
The Dornenstein Estate
Mangelware, DIDschl, and Saophai
No
Forgotten Hamlet
Theticman and ChildOfStars
No
Trick or Treat
CommanderRedstone, BREEZ90, gilly330, and Pebble
No
Unsighted Shadow
MineMakers Team
No
Pumpkin Party
Plagiatus, dragonmaster95, and Tomhelduf
No
October 31st, 2016
Monster Kids
Moesh
No
November 5th, 2016
A Giant Quest
Team Wooloo
No
Bear Buds
Mithey and Blueloving
No
Color Run
Team Cyrus
No
Sad Panda Adventures 2
Mithey and Blueloving
No
November 14th, 2016[note 9]
The Lost Civilization
Blockception and Mojang
Yes
November 18th, 2016
Makers Punch
MineMakers Team
Yes
November 23rd, 2016
Light Your Way Home
Blockworks and Mojang
No
December 2nd, 2016
Hot Potato
Team Cyrus
No
Vaslen
Excessed
No
Fort Craft
goCreative
No
December 16th, 2016[26][27][28][29][note 10]
Frosty Wind
Theticman and ChildOfStars
Yes
Christmas Brawl
MineMakers Team
No
Ice Wars
Team Noot
No
The Naughty List
The Naughty Elves
No
December 16th, 2016
Logic&Elves
Dwittyy
No
2017
[
]
Release Date
Map Name
Creator(s)
Availability
January 20th, 2017
Big Giant Light Show
CDFDMAN, Sounas, and SpiderRobotMan
No
Battle of Gods
McMakistein, Sqored, and EnrazeGames
No
Highliner
McDic
No
Redstonia
Onnowhere
No
February 8th, 2017
The Forgotten Book
Foleros and tomaxed
No
10 Minute Parkour
FantomLX, iWacky, and Tiliba
No
Elytron
Theticman and ChildOfStars
Yes
March 31st, 2017
Colorful Rotation
CommanderRedstone
No
Makers Party
MineMakers Team
No
Albert AI
Onnowhere
No
April 8th, 2017
ChunkWorld
MCNoodlor
Yes
April 14th, 2017[30][31][note 11]
Fireworks Extravaganza
Guenstig
No
Chunk Runner
NeoMc, FantomLX, and iWacky
No
April 24th, 2017
Fortress Frenzy
ChainsawNinja
No
June 30th, 2017
Untold Stories 4: Corona Trials
RenderXR
No
Shulker Rush
MineMakers Team
No
Control
Plagiatus, dragonmaster96, Etex, and Tomhelduf
No
Castle Collection
MCNoodlor
Yes
Space Wars
Mapmakers from Space
No
Puzzles & Powers
PingiPuck and Master_Nati
No
Duel TNT
ChainsawNinja
Yes
Arena Rumble
Archee, pdungey, pollieboy, and Synthestra
Yes
A Knight's Tale
LetzTaco
No
Simple Checkers[note 12]
Code__
Yes
Blast Off
NeoMc and iWacky
No
The Witch
LetzTaco
No
Colors
CommanderRedstone
No
Palette Paint
hgbf and Archee
No
July 14th, 2017
Color Drop
MineMakers Team
Yes
Fishing For Gold
KrisMadas
No
The Museum of Redstone
WebWorm3
No
Advanced Sky
Mr3DAilen
Yes
August 4th, 2017
Color Control
Sybillian
No
Magic Hotel
WebWorm
No
Minecraft: The Island
Blockception and Del Rey
No
Meteor Miners: A Generic Space Game
likeabaus, 123maarten123, and YZEROgame
No
Biome Run
Supersette
No
Diamond Defender 2
Xisuma, Pollieboy, and vilder50
No
Cantara
JustThatHat and Infixes
No
Levitate
0SirAwesome
No
Mirage Tower Defense
McTsts, marhjo, and EnderPig
No
Rod Run
Theticman, ChildOfStars, and ChildOfMoon
No
August 25th, 2017
QMAGNET's Test Map
qmagnet
No
Ninja Defense
Rogue_Baron
No
PentaBlock
Incarceron, Jbip, and dragonmaster95
No
Magma Runner
Rogue_Baron
No
September 15th, 2017
The Birthday Game
Marc Watson, RedstoneJunkies, and Plagiatus
No
Cave Game
Mr3DAilen
Yes
Crafty Monkeys
MineMakers Team
Yes
Reflections
CommandRedstone, Barf Creations, Ds43m, and illio
No
Sky Walker
Kris Madas and iWacky
Yes
October 6th, 2017
HeroFair Amusement Park
CommandRedstone, Krissix, and lefserull
No
The Colossus
spacegame202 and iLAVA
No
Mirage Wars
Mirage Maps (McTsts, marhjo, EnderPig, and infinitydrago)
Yes
Cookie Crumble
Swifter_1243
No
War of Wizards
RedstoneJunkies Team (GameJunkieFreddy, GameJunkieTobi, and GameJunkiePat)
No
October 20th, 2017
Late
MineMakers Team
No
Survivalists
Archee, Tomhelduf, and dragonmaster95
No
November 9th, 2017
Tower Hour
Pszemo
No
Spread
RedstoneJunkies Team
No
The World of Towers
WebWorm and Wither20
No
Abstraction: MINECON EARTH
Jigarbov
Yes
December 15th, 2017
Snowbound
The Nice Elves
No
Sorcerer's Book 2
CmdBlockPL Team
No
Raft Clash
SirBenet
No
2018
[
]
Release Date
Map Name
Creator(s)
Availability
January 26th, 2018
Downtown Destruction
Pollieboy, Kooleyy, and Vilder50
Unknown
Dodge
Aerh, Avihay, and Gamerizz
No
Bombathon
Team CCR
Yes
February 23rd, 2018
Untold Stories 5 - Calamity Canyon
renderXR
No
Corrupted Isles
Smitje
No
River Rampage
Team CCR
Yes
Elemental Forces
PingiPuck, Wither, NotNitchu, and Master_Nati
No
Draughts
federick90, marhjo, and Aerh
No
Combat Cube
Chromatis
No
Short Fuse
Archee, DragonEye3k, and BigNinjaChicken
Yes
March 16th, 2018
Barnyard Brawl
ChainsawNinja and FancySmash
No
Sea of Cinders
moldy
No
Palette Pellets
Team Trailblaze
No
Party Parade
Chromatis and Cxve
No
March 29th, 2018
Easter Egg Factory[note 13]
Jannis
No

Unknown

April 19th, 2018
Plumber
Wector11211
Yes
Minigame Blitz
DarkPiep
No
Rogues
Dieuwt
Yes
Sky Control
Vertex Creations
Yes
Platforms
Supersette
No
Easter Eggcitement
Podcrash
No
PistonUp
MineMakers Team
Yes
May 11th, 2018
Kingdom: Survival
Blockception
Yes
Farming Valley
Norvale
Yes
Freezun
Theticman, ChildOfStars, and ChildOfMoon
No
Cactus Escape
NICO_THE_PRO
Yes
Stranded
Norvale
Yes
The Curse of Starry Isle
AdamDJM
No
Bow Blitz
AngaBlue, Saundeh, and OBLISION
Yes
July 18th, 2018[note 14]
Spread 2
RedstoneJunkies
Yes
August 8th, 2018[note 14]
Clockwork
Swifter_1243
Yes
August 24th, 2018[note 14]
Capture Kings
Vertex Creations
No
The Missing Sandwich II
ElectroBleach, GenericallyNamed, and Meeepy12
No
The Cave
LetzTaco and EliMe5
Yes
Backtrack
GrmpfhcGames
Yes
Conveyor Crasher
Dieuwt
Yes
September 28th, 2018
Dreadnought
Chopper2112, CoolKidProof, and waterprincess244
Yes
A Programmed Adventure
NICO_THE_PRO
Yes
Phantom Run
iWacky
Yes
Pirates Hide & Seek
iWacky, ALEX_CY, and It5msSam
Yes
Spot the Difference
NICO_THE_PRO and ALEX_CY
Yes
Corte Madera
Team Vaeron
Yes
Four in a Line
Kooleyy
Yes
Showcase of Vehicles
PopularYouTube, MagicTin, and MagicJer10
Yes
October 26th, 2018
The Crafting Cube
Vertex Creations
Yes
TIX.TAX
Wector11211
Yes
NM Corporation
Spark Universe
Yes
December 14th, 2018
Puzzle Wars
Azerus Team
Yes
Balloon Bash
SirBenet
Yes
Chromatica
the_suso_craft and adri2711
Yes
Airshow
PopularYouTube, MagicJer10, and MagicTim
Yes
Ruby Caverns
Dieuwt
Yes
Chickwing's Lair
Vertex Creations
Yes
Space Aces
LegoBro, CdRCraft, and ThatGreenGem
Yes
ASTEROID
HomiePinkGuyYT and Dank_Assassin
Yes
Heart Rush
Vertex Creations
No
Holiday Collection
PopularYouTube, MagicTin, and MagicJer10
Yes
2019
[
]
Release Date
Map Name
Creator(s)
Availability
February 15th, 2019
Windmill
Vertex Creations
Yes
Totem Clash
HomiePinkGuyYT and Dank_Assassin
Yes
The 4th Dimension
Team Vaeron
Yes
Sheep Shuffle
The_Artist123
Yes
Pixel Party
DutchCommanderMC and Team Blocksanity
Yes
Annoying Ghosts
ElectroBleach, GenericallyNamed, and Meeepy12
No
March 29th, 2019
The Pickaxe Quest
NICO_THE_PRO
Yes
Colorful Rotation 2
Vertex Creations
Yes
Trident Fishers
CHESKIS
Yes
Parkour Pyramid
Hielke
Yes
Terminal Velocity
the_suso_craft and adri2711
Yes
Simple Hockey
Vertex Creations
Yes
May 9th, 2019
10 Years of Minecraft
Blockworks
Yes
May 15th, 2019[note 15]
Totality
coldfusionmaps
Yes
June 6th, 2019
Dance Floor
Cavinator1 and CemreK
Yes
The Twist Labs
warco311, MaxLoewe, and christina_12
Yes
Bolt
Vertex Creations
Yes
Shipyard Inc
Celisio, b3nj1, and zun
Yes
June 28th, 2019[note 16]
Knockback Madness Remastered
Vertex Creations
Yes
Makers Wars II
MineMakers Team
Yes
Dash Digger
Dieuwt
Yes
Hole in the Floor Remastered
Vertex Creations
No
Illemana Defense
Piyotato, TehPiyoNoob, and Zhengy
Yes
July 25th, 2019
Sleepless Night
Vertex Creations
Yes
Corrupted Tag
CHESKIS and Fabaki
No
MineBoatRace
warco311, MaxLoewe, and christina_12
Yes
Off the Grid
PopularYouTube, MagicJer10, and MagicTin
Yes
UHC Ultimate
Vertex Creations
Yes
Rustic Huddle
Terasal, Zerghunter666, and Jrxss
Yes
Emerald Chambers
Dieuwt
Yes
August 15th, 2019
Security Guard
DTplayers
Yes
Car Dodger
The_Artist123, Ferao, and darkMagicmachine
Yes
Maze Wars
Azerus Team
Yes
Beaconators
Jbip, Ewol51, and 6pri1
Yes
Vertex Skywars
Vertex Creations
Yes
Civilization of the Unforgotten
SuchAGod
Yes
Summer Solstice
Terasal, Zerghunter666, Jrxss, and Ethernets
Yes
September 12th, 2019
Winter Haven Holiday Resort
Tumblrr, Enlighten, and chunswae
Yes
Biome Run 2
Supersette, Chumbleweasel, and PurpleCrystal02
Yes
Alpine Falls
Celisio, b3nj1, and zun
Yes
Biome Builds
Theticman and ChildOfStars
Yes
Build Animator
MHF_Trader and Games_or_Whatevr
Yes
Castle Chaos
The Yeggs Team
Yes
Potato Games: Remastered
Donisi
No
October 3rd, 2019
Slay
Plagiatus, Etex and friends
Yes
Trash Dig
The Yeggs Team
No
PiyoChamber
Piyotato, TehPiyoNoob, and Zhengy
No
The Silent Heist
Jontohil2
Yes
Motor Course 2
BrosephMC
Yes
Raft Rush
MelonBP, Rman, and RedSthunder00
Yes
Section Six
Tumblrr, Enlighten, and chunswae
Yes
Jungle Castaway
Tomm2000
Yes
October 28th, 2019
Halloween Chaos
Skilendarz Group
Yes
Disaster Star Survival
Jontohil2
Yes
Unfair Door
NICO_THE_PRO
Yes
Connect 4
First Pick
Yes
Gravity
Vertex Creations and ThatGreenGem
Yes
Sprint Racer
Flamingosaurus, VioletRosa, and MCFilms
Yes
Dog Ball
The Yeggs Team
No
November 21st, 2019
Magma Runner Remastered
Vertex Creations
No
Diamond Defender 3
Vertex Creations and Xisuma
Yes
Confinement
Ty
Yes
Farmstead's Breeze
ZzLEMONzZ
Yes
Castle Island
feran, 62h, and Bikesnob
Yes
Forgotten Island
Tomm2000
Yes
Ordinance of the Tropic
SuchAGod
Yes
December 12th, 2019
Unfair Trees
NICO_THE_PRO
Yes
A Hole New World
Mithey, PopularMMOs, and Littletessy
Yes
Note Block Studio
MelonBP
Yes
Realms Collection
Vertex Creations and the Realms mapmaker community
Yes
Whack 'Em Smack 'Em Islands
The Yeggs Team and Flytre
Yes
Point Runner - Remastered
Xisuma, Vilder50, and pollieboy
Yes
Cracked
HypixelDoge, ImADiamondPotato, and vaughaan
Yes
Pixel Party 2
DuchCommanderMC and Team Blocksanity
No
Ranger's Trail
ZzLEMONzZ
Yes
Summit Peak
Celisio, b3nj1, and zun
Yes
2020
[
]
Release Date
Map Name
Creator(s)
Availability
February 7th, 2020
Illusions
Creeper Juice and Squishy
Yes
Pillar Ninjas
Supersette and Arrgs
Yes
Arrow Fight
PvPqnda and Hielke
Yes
Island Fall
The Minermen Team
Yes
Armor Stand Parkour
mickae and ZebraPantz
Yes
Depiction Battle
AryFireZ
Yes
Laser Tag
Flytre
Yes
Eastern Bay Woods
ZzLEMONzZ
Yes
Flytrap Takeover
HypixelDoge, collage, and A_Girl
Yes
Deercastle
Hoonas2003 and mattikrokki
Yes
Yellow Oasis
kartoffelgranate and Slarox
Yes
White House with Original Interior
Yes
Left Right Up Down
GrmpfhcGames
Yes
February 28th, 2020
Dimension Parkour
Hielke
Yes
Underwater Mob Arena
PvPqnda and asluup
Yes
Berries and Slimes
Dieuwt
Yes
OneBlock
IJAMinecraft
Yes
Sunset Resort
Feran and 62h
Yes
Guesshead
Flcme
No
Gold Puzzles
FatalVortex
Yes
Rematch
MCFilms, Jayjo_, and Flamingosaurus
Yes
Raid Rumble
GCodingStudios
Yes
Castle of Slarox
Slarox and kartoffelgranate
Yes
Panic Plates
Flcme and BOPofficial
No
I Hate Nature
mickae
Unknown
Pawn
Meeples10, Pebble, and Kovu
Yes
400 Levels
PvPqnda
Yes
March 13th, 2020
Unfair Locked
NICO_THE_PRO
Yes
Variety
FatalVortex
Yes
The Big Quiz
Arrgs, HypixelDoge, and Supersette
Yes
Noob vs Pro - Battle of the Bush
Skilendarz Group
Yes
Turf Wars
The Yeggs Team
Yes
Shulker War
RaZZoR409
Yes
Creeper Run
GCodingStudios
Yes
April 14th, 2020
TNT Race
Vertex Creations
Yes
Boom Doom
Command Realm Team
Yes
The Illusioner Part 1
LetzTaco and GhostFarts
Yes
Moon Miners
Brianthecoo
Yes
Hunter Mystery
Kirill17, Frilled, and Xentrin
Yes
Terrain Palette Hills
collage, Feran, and OBLISION
Yes
Dodgeball!
cloveeee
Yes
Worm Attack
collage, PerfectKill, and A_Girl
Yes
World of Animals
edelewill
Yes
Svalbard
ImADiamondPotato, HypixelDoge, and Arrgs
Yes
Minute Rush
qmagnet
Yes
Honey Missle Wars
Chopper2112, Supersette, and kruthers
Yes
Serpent's Revenge
collage, edelewill, and Feran
Yes
May 7th, 2020
Crossfire
Acented, Aeltumn, and Grafisch
Yes
Drycut Lanes
Ty
Yes
Isolated Isle
Vertex Creations and AliceHowlter
Yes
Shulker Rush II
MineMakers Team
Yes
Pig Thieves
Yeggs
Yes
Floor is a Trap
RaZZoR409
Yes
Inspiring Interior
edelewill, Feran, and 62h
Yes
Knelbourne
DeeDeeNaNaNa
Yes
Puzzle with Squares
warco311, MaxLoewe, and christina_12
Yes
Emerlow Ville
PixelFurious
Yes
Sky-High
NiekarioLinked, CmdVoid, and Zoltarcity
Yes
Zombie Cart
Arrgs, DTPlayers, and Captain_Deadpool
Yes
Cero
Mynckey
Yes
Meteor Miners 2
likeabauws, 123maarten123, and YZEROgame
Yes
Chronicles of the Shop
Fasading
No
June 18th, 2020
ElementsBattle
The Command's Power
Yes
The Illusioner Part 2
LetzTaco and Ghost Farts
Yes
Soulless
Dieuwt
Yes
Tranquil Gardens
pollieboy and Vilder50
Yes
Falling Falling
MrBurdy
Yes
Wool Conquest
Lumesio
No
Voxelsnake
Mynckey
Yes
Brain Get Brained
AryFireZ
Yes
Beastly Betrayal
Jontohil2
Yes
PvBee
MelonBP, hilligans, and Rman
Yes
Dragon Wars
Command Realm Team
Yes
Wildfire
Cloud_Wolf
Yes
Infinisky
BillehBawb and THEGamingninja
Yes
3D Graphing Calculator
CommanderRedstone
Yes
Overshadow
gibbsly and Vertex Creations
Yes
Conmplicated Parkour
mickae, GlxyLuke, and Yeatzy
Yes
Math Fractals
Azerus Team
Yes
El Dorado
Tomm2000 and jackk_ice
Yes
Trilands
Acented, Aeltumn, and Grafisch
Yes
August 21st, 2020
RodRun 2.0
Theticman, ChildOfStars, Elmarchio, and ChildOfMoon
Yes
Bee Riders
Supersette
Yes
Rainbow Escape
NICO_THE_PRO
Yes
Escape the House
GlxyLuke and mickae
Yes
Don't Be Last
StuartA, TheBushBandit and marhjo
Yes
October 8th, 2020
Volcanic Trouble
CmdVoid
Yes
Bingo
Flytre and J70
Yes
Build Party
Command Realm Team
Yes
Item Hunt
Lumesio, ZiraTeck, and Mathaym25
Yes
Color Craze
Yeggs
Yes
Melon Mash
Yes
Whale of Nature
Razzleberries Realms
Yes
October 28th, 2020
Dead Meadow
Jevin, Mynckey, and ValorBorn
Yes
Pumpkin Party Remastered
Plagiatus and dragonmaster95
Yes
The Hauntpuzzled House
Fasading
Yes
Underground Capital
Theticman, ChildOfStars, and Elmarchio
Yes
Confinement 2
Ty
Yes
November 27th, 2020
Spectral Zone
DutchMC, iWacky, and Mezimo
Yes
Stelthiators
Command Realm Team
Yes
Midnight Heist
BigNinjaChicken, InternetAlien, and Denniss
Yes
Mekanism
NICO_THE_PRO
Yes
Gold Rush Remastered
Vertex Creations and Xisuma
Yes
Helvetia
zun, Nidhee, and Aqueze
Yes
Alpine Airport
Celisio and ChrisBoi
Yes
Miner Golf
The Minermen Team
Yes
December 7th, 2020
Would You Rather
Command Realm Team
Yes
Sprint
Jevin
Yes
Snowball Snipers
Yeggs
Yes
Parkour Pantheon
Yes
Winter Village
Celisio, ChrisBoi, and b3nj1
Yes
Road Runners
Yeggs
Yes
Out of Oxygen
Minermen Maps
Yes
Snow Dodge
Lioneah, Dogery, and ImADiamondPotato
Yes
Combat Cube 2
ArcadiaLabs
Yes
Starlight Beacon
NiekarioLinked and CmdVoid
Yes
Things Fall Apart
Aqueze and Tamsu
Yes
Dog Ball: Redemption
Yeggs
Yes
December 18th, 2020
Tales of Glarthford
McTsts, Asometric, and A Bunch Of Crows
Yes
Rogues 2
ChainsawNinja, slabfred, and Derpine
Yes
Block Combat
Azerus Team
Yes
Crazy Quarries
Calverin and J70
Yes
Block Runners
Mint
Yes
Yeggs Tower Defense
Yeggs
Yes
Sweet Homes
Rick, Aqueze, and Nidhee
Yes
Block In The Wall
Yeggs
Yes
Redstone Puzzles
MelonBP, Tim400, and hilligans
Yes
Mushroom Forest
Rick, Aqueze, and Nidhee
Yes
Pufferfish Wars
Denniss, marhjo, and InternetAlien
Yes
Aphrodite's Garden
Rick, Aqueze, and Nidhee
Yes
Dungeon Dwellers
NiekarioLinked and CmdVoid
Yes
Worse Weapon
Yeggs
Yes
Palm Resort Island
ChrisBoi, Celisio, and _DVS
Yes
Sky Scapers
Jayjo_, MCFilms, and Frenderman
Yes
Wings Wars
Azerus Team
Yes
2021
[
]
Release Date
Map Name
Creator(s)
Availability
February 5th, 2021
Museum of Music
baranek, Dogery, and Lioneah
Yes
Shrink Parkour 3
BrosephMC
Yes
Palindroid
The Brickmasons Team
Yes
Valley Village
Nick_team and Dogery
Yes
Contrast of Themes
edelewill, osme, and Ian923
Yes
Valone
Terasal, Ploat, Crubie, and g_rm
Yes
Skyhigh
Yes
Arisoka
Yes
March 19th, 2021
Catastrophe
ErrorCraft
Yes
Bumbling Bees
Barf Creations
Yes
Cave Blast
IngoHHacks, Nightcart, and Theo8
Yes
Dragon Village
CHESKIS, Blaxxi, and oRain
Yes
Breezy Glace
Yes
Dark Oak Town
_Elton and LiamHenricson
Yes
The City by the Sea
Theo8
Yes
Calmville
talaing00, ha6, and hm4
Yes
Parkour Portals
Nightcart
Yes
Sakura Islands
Bisou
Yes
April 9th, 2021
Lord of the Lands
Yeggs
Yes
Celestial Champions
Command Realm Team
Yes
Sealands
Axyy, Storytone, and Lioneah
Yes
Pilkie World
Yeggs
Yes
Chump Jump
Yes
Flower Kindgom
Damian, Ioneh, and Fetch
Yes
Winter Wonderland
Axyy and Lioneah
Yes
May 20th, 2021
Killstreak
The Brickmasons Team
Yes
Bomb Buddies
The People on Earth
Yes
Destroyobot
Mrinin, LegendaryYT_HU, and 7Keyz
Yes
Mushroom Oasis
Zaldoria
Yes
SwarpFight
OneiricForge
Yes
Pressure Island
IJustWonLIFE
Yes
Minute Madness
Minerman Maps
Yes
Red Rock Valley
osme and Ian923
Yes
Effulgent
Axxy, ItzEnd3r, and SweetPotqto
Yes
Coaster Island
osme and Ian923
Yes
Japanese Villa
taalaingg, ha6, hm4, and Zeter3k
Yes
June 18th, 2021
Parkourse Party
Cipher Studios
Yes
CTF Origins
Yes
Tribute
Theo8
Yes
Sora's Fortress
Faish, wbd, Neonaut, and Dolllan
Yes
Dragon's Swirl
Snuz
Yes
Mountain Paradise
GoodGuyChar and AsrielDreemurr_
Yes
The Isle
Oneplain, Lizardbyte, and Cyvy
Yes
Lake Clarity
Bisou, KaiAF, and Pimz
Yes
Bayou Boondocks
Damian, Ioneh, and Fetch
Yes
Viking Village
icupo3 and ball
Yes
Farmlands
Yes
Cayora Wild
oRain, Blaxxi, and CHESKIS
Yes
August 27th, 2021
Dungeon of the Arbalist
Command Realm
Yes
Villager Avengers
Yeggs
Yes
Heart Rush 2
Crowdford
Yes
Game of Life and Death
IngoHHacks
Yes
Disc 600 - An Extreme Parkour Map
Nick_Team, Arrgs, and MysticalSea
Yes
Under the Great Blue
Boog, Jonah_, and Snuz
Yes
Caribbean Islands
_Elton, LiamHenricson, and Blobban
Yes
Arctic Fishing Village
Zaldoria, Feran, and 62h
Yes
Sneaky Snipers 3
Aseiwen
Yes
Frozen Conquest
Snuz, Boog, and Jonah_
Yes
Sadin Castle
Crubie
Yes
Oriental Outpost
Snuz and Jonah_
Yes
October 28th, 2021
Relics from the Deck
The Brickmasons Team
Yes
Monstrosity
Cold Fusion
Yes
Doze Off
Flamingosaurus and Frenderman
Yes
Witch Escape
Primt, 1iClown, and Zaldoria
Yes
Gartic
Mrinin and Caspone
Yes
The Ancient Temple
Creeper Juice and Squishi
Yes
Destroyer
Jontohil2
Yes
Parkourse
Cartography
Yes
Glow Run
Yes
Parkour City
_Elton, Zombie1111, and LiamHenricson
Yes
Super Traitor Mystery
The People on Earth
Yes
Prismatic Parkour
Detry
Yes
City of Schnee
Damian, Ionehm and Fetch
Yes
Death Valley
Faish, wbd, and Dolllan
Yes
Shipwreck Skerry
Nick_Team
Yes
Monkey Mountainb
Peepsibabe and Meddi
Yes
Taiyou
icupo3 and ball
Yes
Lost Islands
Faish, wbd, Neonaut, and Dolllan
Yes
Twisted Grove
Yes
November 26th, 2021
Lightbox
Fingermaps
Yes
Sokoban Collection
Shurik204
Yes
Sky Golf
Spiralio, SirPuffy, and Soup_Man
Yes
Battle Box
Kirill17 and Frilled
Yes
Style Parkour
Bisou, Endermite, N4X, and KaiAF
Yes
Biome Run 3
Supersette, Chopper2112, and Argozzo
Yes
A Fox's Life
The Brickmasons Team
Yes
Fairy Wonderland
Divine
Yes
Cosmonauts
Aseiwen
Yes
Biblio Brawl
ArcadiaLabs
Yes
Tropical Islands
Tomm2000, Tamsu, and Bemson
Yes
Archipelago
Squa-Reds
Yes
Battleground Champions
Detry
Yes
Wild West
Tamsu, PopularYouTube, Bemson, and SirFrasier
Yes
December 16th, 2021
Sapphire Caves
Dieuwt
Yes
Mage's Manor
Wackyblocks and AncientKingg
Yes
Feed the Ravager
Azerus Team
Yes
Floreign Complex
Fingermaps
Yes
Capture Kings 2
Crowdford
Yes
Dogfight
Spiralio, SirPuffy, and Soup_Man
Yes
Mountain Palace
taalaingg, ha6, hm4, and Orange_Polska
Yes
Fresh Designs
Azerus Team
Yes
Pirate Island
Peepsibabe, Meddi, and WelcomeHome
Yes
Dragon's Pass
Squa-Reds
Yes
Frostville
taalaingg and hm4
Yes
2022
[
]
Release Date
Map Name
Creator(s)
Availability
January 28th, 2022
Escape World
Faish, WithPleasure, and GasMann
Yes
Playable Chess
Dominexis
Yes
Mysticaria
Damian, Ioneh, and Fetch
Yes
Lines
Chopper2112 and Supersette
Yes
Songs of Greavesoyl
MrKisiel and Azethmeron
Yes
Wilted Land
Snuz, Jonah_, and Boog
Yes
The Sky Domain
OnePlain, __Piggy, and MasterWarrior_
Yes
Apocalypse
YoKdsGetOfMaLwn, Shout, and Axyy
Yes
Ruins of Aeranas
Zaldoria, Primt, and Steve161803
Yes
Frost Runner
Bisou, Jiingy, Sk18r, Riren, and AstronomerAugust
Yes
Dodge Tag
PvPqnda, Virale, and Hielke
Yes
Hollow Hill
Kirill17
Yes
Extremely Satifsying
Squa-Reds
Yes
March 11th, 2022
Gladiator Games
Dominexis, Wackyblocks, and Urgle
Yes
Tactical Gaggle
TheMalas
Yes
Maze Mania
Yeggs
Yes
Building Site
UnityLabs
Yes
Winter Paradise
Peepsibabe, Meddi, and WelcomeHome
Yes
Mushroom Valley
Yes
Four Habitats
UnityLabs
Yes
Heaven's Calling
Yes
March 25th, 2022
Beyond the Border
TheblueMan003 and Benjamin874
Yes
Sheep Ship Adventure
Fasading
Yes
Dog Fight
The Brickmasons Team
Yes
Decrepit
Avoma
Yes
Chinese Islands
ArcadiaLabs
Yes
Shifty Fifty
Squa-Reds
Yes
Horse Riders
Supersette & Friends
Yes
Kriwood City
Orion Build Collective
Yes
Viewpoint Getaway
Faish, Riren, and WithPleasure
Yes
April 29th, 2022
Skyrise Brawl
MyWayStudios
Yes
Living Large
The Procrastinators
Yes
Disaster Star 2
Jontohil2
Yes
Winter Express
Faish, Riren, WithPleasure, and MagicDust
Yes
Sakura Valleys
EJPete, Kristen, and NormalAccount
Yes
Dimensional Temple
JoelZoBoyo, MagicBlaster, and CiderLove
Yes
Halloween Wild West Town
S0gga
Yes
Sakura Springs
Tamsu and zTxrbq
Yes
Mini Plots
Chested
Yes
May 27th, 2022
Whirlpool Parkour
__Sac and Zombie1111
Yes
Parkour Spiral 3
Hielke
Yes
Upwards
SimonDMC and EurekaX
Yes
Nature Oasis
Team Abstract
Yes
Snowy Skirmish
Zeronia and CubeKrowd
Yes
Glisten
Avoma
Yes
MushroomLand
Em5ire, Atleeh, and Waultex
Yes
SeaBeach
Yes
June 23rd, 2022
Destroy
Teejers
Yes
Boom Brawl
Wooferscoots
Yes
Dartboard
Dwalinn_ and Wabek_
Yes
Mystic Hollow
Variant Builds
Yes
Skydom
VentureBT
Yes
Phoenix V Ashes
Team Abstract
Yes
Biocosm
Conem, Sofia, and Ayloh
Yes
Jungled Island
S0gga and CatOnTheWall
Yes
July 29th, 2022
Computery Stuff
TheblueMan003 and Benjamin874
Yes
Verticuloid
Technodono
Yes
Shulker Champions
FergyDorr
Yes
Lost Tombs
FarmerCreations
Yes
Lundberg
Em5ire, Atleeh, and Waultex
Yes
Coastal Settlement
Napkiinsa and M4xymoos
Yes
Hobbitt Home Camp
Peepsibabe, Meddi, and WelcomeHome
Yes
DinoWorld
Em5ire, Atleeh, and Waultex
Yes
Minigames
[
]
Some of the maps listed above are classified as minigames. Each Realm has a separate minigame slot in addition to the regular world slots, allowing minigames to be temporarily activated at any time with minimal disruption.
Unlike regular worlds, minigames do not save players' progress, and they reset whenever all players log out.
The list of available minigames can be viewed in-game, along with the number of supported players. However the information about each minigame is limited and the list is not sortable.
Limitations
[
]
Although Realms is hosted by Mojang, and therefore safe and secure, it has some limitations. These limitations can be avoided by using standalone server software or a third-party hosting website.
Only whitelisted servers with up to ten players at once are allowed.
Players cannot be invited/uninvited or opped/deopped (given/removed operator status) in-game - they must quit to the menu to do this.
All players are de-opped - even the host - while in a mini-game.
The host can not be de-opped outside of mini-games.
Minecraft must be running to configure the player's Realm.
Realms cannot be used in old versions of the game or snapshots.[32]
Players get kicked for inactivity
Servers reset at midnight.[

more information needed

]
Users under the age of 16 need parental consent to play on Realms.
Video
[
]
History
[
]
Realms version history
[
]

It has been suggested that this section be split into its own page.
[discuss
]
If this split may potentially be controversial, do not split until a consensus has been reached.

Java Edition
[
]
Since Java Edition 1.7.10, Realms has had its own versioning system. Below is a changelog of these updates:
Realms
1.0.0
Redesigned configuration menu.
Added "Player Activity" section.
Added ability to toggle PvP, spawning of Animals, Monsters, and NPCs, Command Blocks, Spawn Protection, and some others.
Added the ability for the player to upload their own worlds.
Fixed crash while using a Resource Pack
Fixed white heads glitch.
1.2.5
Enabled more logging for Realms, which ends up in the launcher development console.
1.2.6
Fixed issue with world uploading on Windows.
1.2.7
Stored Realms library version in the library jar so it can be displayed by the launcher.
1.2.8
Fixed backups screen scrolling
Added indicator colors for each player in the activity monitor.
1.2.9
World map is now downloaded directly to the Minecraft saves directory.
1.2.10
Configure button is now disabled if Realm is in admin mode.
1.3.0
Localization of Realms error messages.
1.3.1
Fixed an issue with Invite Screen that wouldn't display Realms error messages on screen
Refactoring of error handling in Realms http client.
1.3.2
Fixed an issue with world downloading on Windows.
1.3.4
Realms considers modded clients to be outdated.
1.5.2
Unknown
1.5.4
Unknown
1.5.5
Moved "What is Realms?" button to the top-left of the Realms home screen.
1.5.9
Unknown.
1.7.3
New world configuration layout. Ability to have three worlds saved to the Realm with the ability to switch between them at any time.
1.8.9
New realm logos, and changed "What is Realms?" button into a yellow "?".
1.9.4
The invite list cap is lifted from 200 to "an arbitrarily large, but maybe reachable number."[33]
1.9.5
The world upload limit is lifted to 5GB.[34][35]
1.10.10
When new content is loaded into Realms, and an announcement blog post is posted, a newspaper icon now shows on the home screen 'Minecraft Realms' button. These notifications can be toggled on and off.[36][37]
1.10.11
Added Experiences as a new map category.
Renamed Adventure Maps to Adventures.[38][39]
1.10.16
Added Inspiration as a new map category.[40]
1.10.17
Minor GUI component changes.
1.10.18
Refactoring of world uploader.
1.10.19
Added 6 new images into the What is realms? popup.
1.10.20
Updated parental consent screen to comply with the GDPR.
1.10.21
Updated parental consent screen again: changed message and added link to https://minecraft.net/privacy/gdpr/.
1.10.22
Temporarily disabled player activity feed.
1.13.0
GUI code refactored to work with Java Edition 1.13.
Added error and empty text in world template selection screen.
Tasks with a loading screen do not crash the client anymore if an unhandled error occurs, instead it keeps the loading screen displayed until the Cancel button is clicked.
Reduced the file size of some images in the What is realms? popup.
1.13.1
Improved the visibility handling of the list in the Realms home screen.
1.13.2
Minor fix of the Realms home screen code.
1.13.3
Fixed bugs where Realms altered some chunks of 1.13 single-player worlds upon world upload. Fixed bugs where Realms would delete zipped data packs and functions from unzipped data packs.
1.13.9
Fixed REALMS-979 – "Difficulty Won't Change".
1.13.10
Unknown.
1.14.0
Unknown.
1.14.1
Unknown.
1.14.2
Unknown.
1.14.3
Fixed REALMS-1607 – "'Incompatible client' screen is missing the return button".
1.14.4
Unknown.
1.14.5
Unknown.
1.14.6
Unknown.
1.14.7
Unknown.
1.14.8
Unknown.
1.14.9
Unknown.
1.14.10
Unknown.
1.14.11
Unknown.
1.14.12
Unknown.
1.14.13
Fixed REALMS-1710 – "Realms page UI isn't aligned properly" and REALMS-1692 – "'Buy a realm' popup shows up when trying to join a realm".
1.14.14
Fixed bug REALMS-1709: Spawn protection is not pressed in realms world settings, REALMS-1700: Realms Menu Gradient Off-Center, and REALMS-1414: Error 500 when trying to upload a world.
1.14.15
Unknown.
1.14.16
Unknown.
1.14.17
Unknown.
Bedrock Edition
[
]
Realms
1.10
Fixed REALMS-1467 – "Feed items always say they were posted a the same date" and REALMS-1539 – "Downloaded realm 'A newer version of the game has saved this level. It cannot be loaded'."
Minecraft version history
[
]
Originally, Realms updates were tied into regular Minecraft updates, until the release of 1.7.10. Below is a changelog of all those updates.
Java Edition
1.5
Added Minecraft Realms Alpha, which was accessible only to 100 alpha testers.
1.5.1
Changed Realm List Layout to show the player's owned Realms first, then ones they are invited to.
Overhauled Configuration screen, changing layout.
Changed the way Realms show up on the main list.
Updated "More Info" link.
1.6.4
More alpha testers chosen, using the same algorithm as the first round of testers were picked with.
1.7.4
Configuration screen layout changed
Updated Realms list to include a picture of the owner's face as the server logo.
1.7.5
Added Minigames feature.
1.7.6
Added the ability to promote other players to Operators via the configuration screen.
Added "Changes since last backup" feature.
1.7.10
Moved all Realms related modules into a separate library.
Improvements in Realms UI.
1.8.8
Realms now has the ability to serve Realm-wide resource packs.
1.8.9
Realms invites from friends are now shown on the main menu.
Pocket Edition Alpha
v0.7.0
Added Pocket Realms, accessible only to the testers of the Java Edition.
v0.7.6
Moved Realms login button to the settings menu.
"Play on Realms" button appears only if a tester is signed in.
Realms are shut down for maintenance.
v0.15.0
Realms build 1
Readded Realms.
Users can now test Realms Alpha for free.
Realms build 2
Fixed crashes related to realms.
?
Players now have to sign into Xbox Live to use Realms.
Bedrock Edition
1.13.1
December 3, 2019
Realms is no longer supported and has been replaced with Realms Plus.
Availability
[
]
The following chart shows when Realms was introduced in the respective countries.
| Country/Region | Available since |
| --- | --- |
| Afghanistan | 2014-05-06 |
| Aland Islands | 2014-04-24 |
| Albania | 2014-05-06 |
| Algeria | 2014-05-19 |
| Andorra | 2014-05-06 |
| Angola | 2014-05-19 |
| Antigua & Deps | 2014-05-19 |
| Argentina | 2014-05-19 |
| Armenia | 2014-05-19 |
| Australia | 2014-05-09 |
| Austria | 2014-05-06 |
| Azerbaijan | 2014-05-19 |
| Bahamas | 2014-05-19 |
| Bahrain | 2014-05-19 |
| Bangladesh | 2014-05-19 |
| Barbados | 2014-05-19 |
| Belarus | 2014-05-06 |
| Belgium | 2014-04-24 |
| Belize | 2014-05-19 |
| Benin | 2014-05-19 |
| Bhutan | 2014-05-19 |
| Bolivia | 2014-05-19 |
| Bosnia Herzegovina | 2014-05-06 |
| Botswana | 2014-05-19 |
| Brazil | 2014-05-19 |
| Brunei | 2014-05-19 |
| Bulgaria | 2014-04-24 |
| Burkina | 2014-05-19 |
| Burundi | 2014-05-19 |
| Cambodia | 2014-05-19 |
| Cameroon | 2014-05-19 |
| Canada | 2014-04-01 |
| Cape Verde | 2014-05-19 |
| Cayman Islands | 2014-04-24 |
| Central African Rep | 2014-05-19 |
| Chad | 2014-05-19 |
| Chile | 2014-05-19 |
| China | 2014-05-19 |
| Colombia | 2014-05-19 |
| Comoros | 2014-05-19 |
| Congo | 2014-05-19 |
| Congo (Democratic Rep) | 2014-05-19 |
| Cook Islands | 2014-05-09 |
| Costa Rica | 2014-05-19 |
| Croatia | 2014-04-24 |
| Cuba | 2014-05-19 |
| Cyprus | 2014-05-06 |
| Czech Republic | 2014-05-06 |
| Denmark | 2014-02-26 |
| Djibouti | 2014-05-19 |
| Dominica | 2014-05-19 |
| Dominican Republic | 2014-05-19 |
| East Timor | 2014-05-19 |
| Ecuador | 2014-05-19 |
| Egypt | 2014-05-06 |
| El Salvador | 2014-05-19 |
| Equatorial Guinea | 2014-05-19 |
| Eritrea | 2014-05-19 |
| Estonia | 2014-04-24 |
| Ethiopia | 2014-05-19 |
| Faroe Islands | 2014-02-26 |
| Fiji | 2014-05-09 |
| Finland | 2014-02-26 |
| France | 2014-05-06 |
| Gabon | 2014-05-19 |
| Gambia | 2014-05-19 |
| Georgia | 2014-05-19 |
| Germany | 2014-05-06 |
| Ghana | 2014-05-19 |
| Gibraltar | 2014-05-06 |
| Greece | 2014-04-24 |
| Greenland | 2014-02-26 |
| Grenada | 2014-05-19 |
| Guam | 2014-05-09 |
| Guatemala | 2014-05-19 |
| Guernsey | 2014-05-06 |
| Guinea | 2014-05-19 |
| Guinea-Bissau | 2014-05-19 |
| Guyana | 2014-05-19 |
| Haiti | 2014-05-19 |
| Honduras | 2014-05-19 |
| Hungary | 2014-04-24 |
| Iceland | 2014-02-26 |
| India | 2014-05-19 |
| Indonesia | 2014-05-19 |
| Iran | 2014-05-06 |
| Iraq | 2014-05-06 |
| Ireland (Republic) | 2014-03-25 |
| Isle of Man | 2014-04-24 |
| Israel | 2014-04-24 |
| Italy | 2014-05-06 |
| Ivory Coast | 2014-05-19 |
| Jamaica | 2014-05-19 |
| Japan | 2014-05-19 |
| Jersey | 2014-05-06 |
| Jordan | 2014-05-06 |
| Kazakhstan | 2014-05-19 |
| Kenya | 2014-05-19 |
| Kiribati | 2014-05-09 |
| Korea North | 2014-05-19 |
| Korea South | 2014-05-19 |
| Kosovo | 2014-05-19 |
| Kuwait | 2014-05-19 |
| Kyrgyzstan | 2014-05-19 |
| Laos | 2014-05-19 |
| Latvia | 2014-04-24 |
| Lebanon | 2014-05-19 |
| Lesotho | 2014-05-19 |
| Liberia | 2014-05-19 |
| Libya | 2014-05-19 |
| Liechtenstein | 2014-05-06 |
| Lithuania | 2014-04-24 |
| Luxembourg | 2014-04-24 |
| Macedonia (Republic) | 2014-05-06 |
| Madagascar | 2014-05-19 |
| Malawi | 2014-05-19 |
| Malaysia | 2014-05-19 |
| Maldives | 2014-05-19 |
| Mali | 2014-05-19 |
| Malta | 2014-04-24 |
| Marshall Islands | 2014-05-09 |
| Mauritania | 2014-05-19 |
| Mauritius | 2014-05-19 |
| Mexico | 2014-04-24 |
| Micronesia | 2014-05-09 |
| Midway Islands | 2014-05-09 |
| Middle East | 2014-05-19 |
| Moldova (Republic) | 2014-05-06 |
| Monaco | 2014-05-06 |
| Mongolia | 2014-05-19 |
| Montenegro | 2014-05-06 |
| Morocco | 2014-05-19 |
| Mozambique | 2014-05-19 |
| Myanmar, (Burma) | 2014-05-19 |
| Namibia | 2014-05-19 |
| Nauru | 2014-05-09 |
| Nepal | 2014-05-19 |
| Netherlands | 2014-03-25 |
| New Caledonia | 2014-05-09 |
| New Zealand | 2014-05-09 |
| Nicaragua | 2014-05-19 |
| Niger | 2014-05-19 |
| Nigeria | 2014-05-19 |
| Niue | 2014-05-09 |
| Norfolk Island | 2014-05-09 |
| Norway | 2014-02-26 |
| Oman | 2014-05-06 |
| Pakistan | 2014-05-06 |
| Palau | 2014-05-09 |
| Panama | 2014-05-19 |
| Papua New Guinea | 2014-05-09 |
| Paraguay | 2014-05-19 |
| Peru | 2014-05-19 |
| Philippines | 2014-05-19 |
| Pitcairn Islands | 2014-05-09 |
| Poland | 2014-05-06 |
| Polynesia | 2014-05-09 |
| Portugal | 2014-05-06 |
| Puerto Rico | 2014-05-06 |
| Qatar | 2014-05-19 |
| Romania | 2014-04-24 |
| Russian Federation | 2014-05-06 |
| Rwanda | 2014-05-19 |
| St Kitts & Nevis | 2014-05-19 |
| St Lucia | 2014-05-19 |
| Saint Vincent & the Grenadines | 2014-05-19 |
| Saipan | 2014-05-09 |
| Samoa | 2014-05-09 |
| San Marino | 2014-05-06 |
| Sao Tome & Principe | 2014-05-19 |
| Saudi Arabia | 2014-05-06 |
| Senegal | 2014-05-19 |
| Serbia | 2014-05-06 |
| Seychelles | 2014-05-19 |
| Sierra Leone | 2014-05-19 |
| Singapore | 2014-05-19 |
| Slovakia | 2014-04-24 |
| Slovenia | 2014-04-24 |
| Solomon Islands | 2014-05-09 |
| Somalia | 2014-05-19 |
| South Africa | 2014-04-24 |
| Spain | 2014-05-06 |
| Sri Lanka | 2014-05-19 |
| Sudan | 2014-05-19 |
| Suriname | 2014-05-19 |
| Svalbard | 2014-05-06 |
| Swaziland | 2014-05-19 |
| Sweden | 2013-12-19 |
| Switzerland | 2014-05-06 |
| Syria (Republic) | 2014-05-06 |
| Taiwan | 2014-05-19 |
| Tajikistan | 2014-05-19 |
| Tanzania | 2014-05-19 |
| Thailand | 2014-05-19 |
| Togo | 2014-05-19 |
| Tokelau | 2014-05-09 |
| Tonga | 2014-05-09 |
| Trinidad & Tobago | 2014-05-19 |
| Tunisia | 2014-05-19 |
| Turkey | 2014-05-06 |
| Turkmenistan | 2014-05-06 |
| Tuvalu | 2014-05-09 |
| Uganda | 2014-05-19 |
| Ukraine | 2014-05-06 |
| United Arab Emirates | 2014-04-24 |
| United Kingdom | 2014-03-25 |
| United States | 2014-04-24 |
| Uruguay | 2014-05-19 |
| Uzbekistan | 2014-05-19 |
| Vanuatu | 2014-05-09 |
| Vatican City | 2014-05-06 |
| Venezuela | 2014-05-19 |
| Vietnam | 2014-05-19 |
| Wallis Futuna Islands | 2014-05-09 |
| Yemen | 2014-05-06 |
| Zambia | 2014-05-19 |
| Zimbabwe | 2014-05-19 |
Issues
[
]
Issues relating to "Realms" are maintained on the bug tracker. Report issues there.
Trivia
[
]
The Mojang blog closing signature was signed // The Minecraft and Minecraft Realms teams instead of the usual // The Minecraft team starting with the blog Minecraft Snapshot 13w09a.[41]
Gallery
[
]
Java Edition
[
]
The main screen that appears when the player clicks the "Minecraft Realms" button on the main menu.
Bedrock Edition
[
]
Notes
[
]
References
[
]
Versions
Development
Technical
Multiplayer
Game customization