Minecraft Interactive Experience
Play Sound
v0.7.3 alpha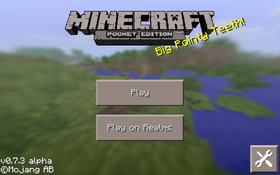 v0.7.3 alpha was a minor update to Minecraft: Pocket Edition that was released on August 15, 2013.[1] This version changes the daylight cycle and fixed some of the bugs and crashes in v0.7.2.
iOS 4.3 is no longer supported in this version; v0.7.3 requires iOS 5.0 or later. Users running iOS 4.3 will only be able to play older versions of Pocket Edition.[2]
Additions
[
]
Gameplay
[
]
Blocks and items
[
]
Double chests

When chests are put together, items previously in the left chest appear at the bottom half. Items from the right chest will also appear at the top. This may cause a loss of items.
Chests now have an open/close animation.
The player can open chests in creative, but not look inside; they will immediately close.

Quartz slabs
Changes
[
]
General
[
]
Added more friction when flying in Creative Mode (iOS).
Stopped building the game with typeinfo enabled (iOS).
Wooden slab material changed to wood instead of stone. Wooden Slabs stored from before 0.7.3 are tagged as Fake Wood Slab and drop regular wooden slabs when mined.
When creating a new world, the default name shows "My World".
Mobs
[
]
Mobs now light on fire under sunlight.
Fixes
[
]
From released versions before 0.7.0
From 0.7.0
From 0.7.1
MCPE-2608 – No fire animation for night-time mobs when they come in contact with sunlight
MCPE-4281 – Chests cannot be placed next to other chests
MCPE-4332 – Armor glitch
From 0.7.2
References
[
]