Minecraft Interactive Experience
Play Sound
v0.15.10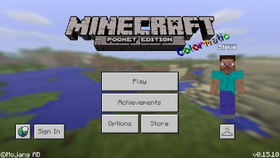 Edition
Internal version

0.15.10.0
Windows 10 0.1510.0.0

Release date

Android - October 3, 2016
iOS, Fire OS, Windows Phone, Windows 10, Gear VR - October 4, 2016

Protocol version

84
v0.15.10 was released to add the Campfire Tales Skin Pack, some achievements, and several bug fixes and tweaks.[1][2]
Additions
[
]
General
[
]
Added the following achievements: Free Diver, Rabbit Season, Dry Spell, The Deep End, Beaconator, The Beginning?, The Beginning., Overpowered, and Super Fuel.
Changes
[
]
Fixed mirror texture issues.
Small fix to smart turning. (VR only)
Fixes
[
]
From released versions before 0.15.0
MCPE-11112 – Hostile mobs don't spawn underground during the day
MCPE-11638 – Already connected Rail reconnect to a new rail next to it.
From 0.15.0
MCPE-15595 – BUD detector does not get Block updates for non-rendered blocks / doesn't always fire
From 0.15.1
From 0.15.6
From 0.15.7
Other
When getting the MINECON 2016 capes, the player will now be prompted to make a "free" purchase from their device's store. If the player is on Android and it prompts them for payment, they can use the code MINECON2016 to get it for free.
Fixed crash when rendering leads in VR. (VR only)
Using the B button to quit the game (when using a controller) now works. (Win 10 only)
Fixed top of cursor flickering in VR. (VR only)
Mouse clicks no longer cause keyboard input to stop. (VR only)
Fixed issue where Minecraft would not shut down completely when launching another app in the Oculus store. (Win 10 Oculus only)
Added in bug fixes for VR that were previously in 0.16 betas build 1 and build 3.

These bug fixes may include but are not limited to:

Fixed a crash upon world load in Gear VR edition.
Fixed a connection issue failure with players trying to connect to Realms from Gear VR.
Transitioning from Living Room mode to Immersive mode while riding an animal no longer makes the animal look like it's being x-rayed (Win 10 Rift only).
Cursor is now fully visible when drawing back a bow and arrows fly according to where the cursor is pointed. (Gear VR edition & Win 10 Rift only)
Controller input is now recognized in VR even if the VR window does not have windows focus. (Win 10 Rift only)
Trivia
[
]
Nine of the skins from the Campfire Tales skin pack: The Headless Haunter, Ol' Diggy, The Sea-Swallowed Captain, Rancid Anne, The Well Wisher, The Sham, Lumbering Jack, Crisp, and The Arisen Rose, in that particular order, were shown in screenshots in various tweets with their backstories captioned alongside them, sent by the official Minecraft Twitter account.

These tweets were sent several days before 0.15.10 was released to all devices (except for the Arisen Rose tweet), as a form of 'Teaser', from September 30 to October 4 and were all sent at exactly either 3:01 am or pm.[

more information needed

]
References
[
]