Pocket Edition v0.10.4 alpha
v0.10.4 alpha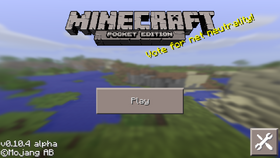 Edition
Release date

Android – November 24, 2014
iOS – December 2, 2014
Windows Phone – December 10, 2014[1]

Protocol version
v0.10.4 alpha was released to fix some bugs and crashes in v0.10.3. For iOS, this version includes changes from v0.10.1, v0.10.2 and v0.10.3, along with support for the iPhone 6 Plus's screen resolution. This is also the first version released for the Windows Phone.
Changes
[
edit
]
App icon reverted to 0.8.0 look (shiny effect)
Native support for iPhone 6 Plus
From released versions before 0.10.0
Others
Fixed 'Quit to title' exiting bug.
Fixed beds only facing North.[2]
References
[
edit
]