Minecraft Interactive Experience
Play Sound
v0.1.0 alpha was the first publicly released version of Minecraft: Pocket Edition. It was exclusively released for the Xperia PLAY gaming console on August 16, 2011.[1]
There was a planned v0.1.0 alpha that would have been released on Android, but the release was held back. The version would have had Black Touch Controls, and the menu would have looked the same as v0.1.1 alpha.
Additions
[
]
General
[
]
Randomized worlds
Placing and destroying blocks
Ability to invite and play multiplayer on a world (wireless local area network)
Save multiplayer worlds for offline use with the "Copy World" button in the pause menu.
A file that can run on Android called minecraftpe.apk in the Minecraft Assets folder.
Options for high and low spec phones (Called Fancy Graphics and Lower Graphics Quality, respectively)
Touch Screen controls and auto-jump. (officially added in 0.1.1)
World generation
[
]
Blocks
[
]
Unobtainable
Revisions
[
]
The apk file for v0.1.0 alpha has different internal versions. Any other differences are currently unknown.
Versions
[
]
Version: 0.1(1), Size: 1.66 MB
Version: 0.1(2), Size: 1.61 MB
Demo
[
]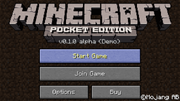 A demo for Alpha 0.1.0 was released exclusively to the Xperia Play on an unknown released date. A prototype version of the demo was also released accidentally to assets.minecraft.net with the label "mcpe01_canada.apk".
Additions
[
]
General
[
]
Blocks in inventory are now 3D
Render distance is short, so it looks foggy
Problem with the sounds of Walking and placing blocks
Trivia
[
]
The game has a high chance of crashing if playing on Android 3.0 or higher.
The game had a camera, which would later be used for Education edition.
Trailer
[
]
References
[
]