Minecraft Interactive Experience
Play Sound
1.0.5 build 3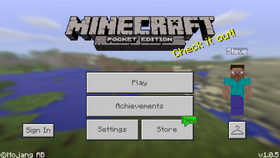 1.0.5 build 3 (also known as Alpha 1.0.5.11 or Alpha 1.0.5.13 re-release) is the third and final build version released for 1.0.5.[1]
Changes
[
]
Entities will no longer spawn in lava with the /spreadplayers command
Fixes
[
]
MCPE-18181 Chorus plants now make the correct sounds.
MCPE-19719 Maps zoomed out on an anvil now work the same for all players
Fixed a crash when attempting to place any irrelevant item in Horse Armor slot using /replaceitem command
Fixed several bugs with the /replaceitem command
Trivia
[
]
This beta build unintentionally allowed beta users access to their Realms. If a beta user using this build accessed their Realm, the Realm would upgrade to 1.0.5 which would only allow the Realm owner and those also on the beta build to access the build until the full 1.0.5 release.
References
[
]