Pocket Edition Demo
Minecraft - Pocket Edition Demo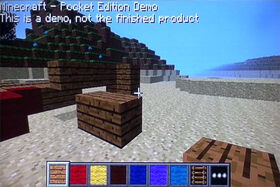 Minecraft - Pocket Edition Demo[1] was the first known developmental version of Minecraft: Pocket Edition. This version was never publicly released, but was playable at the Electronic Entertainment Expo of 2011 and given to many individuals for private testing and showcasing.
Features
[
edit
]
Entities
[
edit
]
General
[
edit
]
Inventory hotbar had a smaller look and could handle 9 items.
Blocks in the item form use their own block texture (if there are several, then side texture).
The rose was going to be identical to Java's rose, but has been replaced with a cyan texture because of hardware issues.[2]
The first internal version only had an ASCII renderer.[3]
Gallery
[
edit
]
External links
[
edit
]
References
[
edit
]