Minecraft Interactive Experience
Play Sound
v1.1.1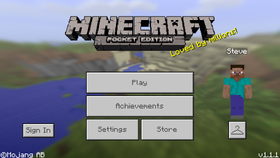 Edition
Internal version

1.1.1.51
Windows 10 1.1.151.0

Release date

June 20, 2017

Development versions

Protocol version

113

Other instances
of 1.1.1
1.1.1 is a Pocket Edition hotfix only update to address stability issues introduced in 1.1.0.[1]
Changes
[
]
Fixes
[
]
Fixed several crashes and improved stability.
Creative inventory can no longer be accessed in Survival.
Redstone torches will no longer play the burn out sound when they simply lose power.
Shulkers are now immune to fire.
TNT explosions now apply the right amount of force to players.
Mutated biomes will now decorate properly.
Various fixes to Marketplace screens.
Video
[
]
Video made by slicedlime:
References
[
]