Minecraft Interactive Experience
Play Sound
v1.0.2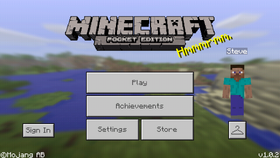 Edition
Internal version

1.0.2.1
Windows 10 1.0.201.0

Release date

iOS, Android, Fire OS, Windows 10, Fire TV – January 19, 2017
Gear VR, Apple TV – January 25, 2017

Protocol version

100

Other instances
of 1.0.2
1.0.2 was an update to Pocket Edition released to fix some of the bugs and crashes in 1.0.0.[1]
Fixes
[
]
Endermites now attack from 8 blocks away.
/locate now works for strongholds.
Fixed an issue with lingering potions not being able to be poured into or scooped out of cauldrons.
Horses can once again climb up blocks in every direction.
Using lingering potions to craft tipped arrows now creates the correct tipped arrow
Fixed a crash when attempting to download music (Android only).
The achievements screen layout now displays properly (Fire TV only).
Fixed a rare crash that could happen if a large chest changed size as someone else was opening it.
Endermen no longer teleport after death.
Skeletons and strays now deal damage based on difficulty level.
Skeletons and Strays now avoid wolves.
Fixed an issue when touch controls would suddenly look down.
Projectiles now work properly in multiplayer games.
Item frames can no longer be used to duplicate items
Mobs no longer become invulnerable when hit with an invisibility potion.
Players no longer fall when re-entering a game after using elytra.
Fixed a crash when dyeing sheep on Realms.
Skull projectiles can now be deflected back at the wither.
The wither now faces the player it has targeted.
Fixed missing end crystals in some imported worlds.
Mobs can no longer be hit after they die.
Fixed an issue when '.mctemplate' and '.mcaddon' files were not associated with Minecraft during import (iOS only).
References
[
]