Minecraft Interactive Experience
Play Sound

This page describes an edition of the game that has been officially discontinued.
This edition is no longer updated or available for download and has been replaced with
Bedrock Edition
.
Pocket Edition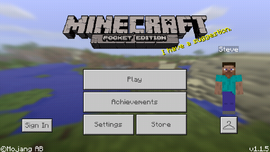 Author(s)
Platform(s)
Written in

C++[2]

Latest version

1.1.7 (iOS & iPadOS)
1.1.5 (others)
1.18.33 (release after rebranding)
beta 1.19.0.32 (beta)

Release date

Android 4.3+

October 7, 2011[5]
January 30, 2013 (2.3+)[6]
December 18, 2013 (3.0+)[7]
October 11, 2015 (4.2+)[7]

iOS & iPadOS 8.0+

November 17, 2011
August 15, 2013 (5.0+)
April 27, 2016 (6.0+)
June 13, 2016 (8.0+)

Fire OS 3.0+

September 13, 2012
April 2, 2014 (3.0+)

Galaxy Store

Unknown[

verify

]

Windows 10 Mobile

December 10, 2014
(Windows Phone 8.1)
February 22, 2017
(Windows 10 Mobile)

Chrome OS

September 2016

Rating(s)
Size

iOS & iPadOS: 219 MB
Android: "Varies with device"
Fire OS: 71.7 MB
Windows 10 Mobile: 87.12 - 193.83 MB

License

Proprietary

Source available

No

Links

Store pages:

iOS & iPadOS:
Fire OS:
Minecraft: Pocket Edition (informally known as MCPE or PE) was the former title of the Bedrock Edition of Minecraft developed by Mojang Studios for mobile devices before 1.2.0, although subsequent builds are still commonly (if erroneously) referred to as Pocket Edition. Pocket Edition introduced the Bedrock Engine, which was later ported to non-mobile platforms as four other editions of Minecraft: Windows 10 Edition, Gear VR Edition, Apple TV Edition, and Fire TV Edition.[19][20][21][22] When these editions received the Better Together Update, the "Edition" subtitle was removed, and the official name for all of these editions became Minecraft. To assist with clarification, the Minecraft community referred to these versions collectively as Bedrock Edition due to Bedrock being the name of the C++ codebase from which they all derive.
Pocket Edition was initially launched exclusively for the Xperia Play on Google Play[9] for US$6.99 on August 16, 2011. It was later released for other Android devices on October 7, 2011,[23] and iOS on November 17, 2011.[24] On September 13, 2012, the Pocket Edition was made available for purchase on the Amazon Appstore. A demo/lite version of the game, which was essentially version 0.2.1 without world save functionality and had limited inventory items, was available until October 21, 2013. The Windows Phone 8.1 version was released on the Microsoft Store on December 10, 2014.[25] The Windows Phone 8.1 version (which also ran on Windows 10 Mobile) was discontinued after the release of v0.16.2 on November 18, 2016, and was later replaced by a release for Windows 10 Mobile only (which was free to owners of the previous Windows Phone 8.1 version) on February 22, 2017 starting with 1.0.3.[26] After the release of 1.0.0, Pocket Edition for Fire OS was no longer available for Fire TV, but the new, more expensive Fire TV Edition was free to its previous owners.
Gameplay
[
]
The objective of the game remains the same as its Java and Legacy Console editions counterparts, where players can build virtual realities in a sandbox-like environment. Like its counterparts, Pocket Edition also has survival elements present in other versions of the game such as brewing, hunger, and dimensions like the Nether and the End. The multiplayer mode is cross-platform compatible between all touch-screen devices capable of running Pocket Edition.[27]
The HUD and other elements are adapted to mobile standards of gameplay. Interactions are made via touchscreen (both the iOS and Android versions of Pocket Edition have the same gameplay[28]). To comply with the disadvantages of touchscreen gameplay, several features were revised. For instance, the crafting system uses the MATTIS system and items are disposed of by long-tapping their icon on the toolbar. For better visibility on mobile screens, blocks being aimed at are highlighted rather than outlined. Unlike mobile's crafting menu, Windows 10 edition's crafting menu is similar to Java and Console crafting menu. The game was released with graphics akin to that of Java Edition Alpha (bright green grass blocks, old cobblestone texture, etc.), but as of v0.8.0, graphics have become equivalent to the Java Edition but also including light tinting and shading affected by the sun's position. Differences from the Java Edition include:
Multiplayer allows for 4 ways of player connection:

Through LAN, allowing for 5 players to be on a single world.
Through Pocket Realms. Pocket Realms was closed in v0.7.6 and now newly available again in Alpha v0.15.0.
Through a user-created external server.
Through Xbox Live.
Development
[
]
Release
[
]
On May 22, 2009, early in Minecraft's development, Notch indicated he had "vague plans about porting minecraft for Android in the future."[29]
A video of an early prototype was released on Twitter, showing the game on the Xperia Play. The alpha version was later released and became no longer exclusive to the Xperia Play on October 7, 2011. The non-exclusive version was going to be released on September 29 for Android[30] but there were several severe bugs that needed to be fixed; the release was delayed until October 7.
Alpha
[
]
After the initial releases for iOS and Android, updates were released in parallel, with the same features being added for both platforms. During the Alpha stage, various aspects of gameplay were introduced into Pocket Edition including: crafting, smelting, more blocks, items, mobs and more game modes to bring it closer to the Java Edition. As the Minecraft Pocket Edition development team works closely, often blocks released on the Java Edition are released around the same time for the Pocket Edition. Certain features were also tested on Pocket Edition before their Java Edition releases, such as beetroots and their related items, and also block models.
Full Release
[
]
On November 11, 2016, the 1.0.0 (Ender Update) was announced. It was released on December 19, 2016.
Builds
[
]
Starting on November 22, 2013,[31] Mojang began to publicly release testing versions of full updates to Android users who opt into the beta program, in order to get major feedback, especially for bug reporting. This enabled the official updates to be considerably more stable.
Versions from 0.8.0 to 0.12.1 required opting into a Google+ group to receive development builds. Players would then see development updates appear as normal updates in the Play Store. On July 17, 2015, the Google+ group was removed due to the amount of spam and advertisements that the group attracted.[32][33][34] On November 3, 2015, the PE Beta team published a dedicated blog[35] that was subsequently used for users to opt into the 0.13.0 beta program and to display changelogs for these development builds.
Success
[
]
As of December 2013, Pocket Edition had sold 16.5 million copies, while in the same time, Java Edition had sold 13 million. These calculations came out after the 0.8.0 update.[36]
On December 2, 2016, Marsh Davies announced that Pocket Edition had sold over 40 million copies[37] (at the time, Java Edition had sold over 24 million).
It is also usually in the top 10 and regularly #1 in the App Store's and Google Play's Paid Apps Section in the Top Charts.[38][39]
Controls
[
]
Mobile devices (iOS, Android & Others)
[
]
The iOS, Android and other versions feature a D-pad at the bottom-left corner of the screen, which controls movement. When moving forward, two strafing buttons appear. The jump button is located on the bottom-right corner, and the sneak is in the center of the D-pad. Sneaking can be achieved by double tapping this button. The location of the jump button and the sneak button can be swapped, in the controls section of the options menu. Note that when moving toward an adjacent block that is one level higher than the player, the player automatically jumps up the block. This can also be disabled in the controls section of the options menu. One can place blocks by tapping the screen in a desired location. Destroying blocks is similar to the Java Edition's way, but rather than clicking the mouse, the player taps and holds. Split controls can also be used, which allows the player to place and break blocks similarly to Java Edition, where a crosshair appears and allows the player to place blocks using that. To change to the camera view, the player can go to Settings > Video. There should be a dropdown button displaying the player's current view, and tapping on it opens a dropdown menu allowing the player to choose different camera views. To open the inventory screen, tap the triple dotted button on the right of the hot bar. The player can touch and hold an item in the hot bar to throw it, and if the hot bar contains a stack of items, it throws the entire stack. The player cannot divide it unless interfacing with a container (chest, furnace). The player can however switch to the Java Edition menu system via settings.
Xperia Play
[
]
Controlled with slide out PlayStation keyboard.
– Open inventory
– Scroll right in hotbar
– Opening craft screen.
D-Pad: Move
Left Touchpad: Sneak
Right Touchpad: Look/Turn
Select: Open crafting menu (Survival mode only)
L1: Break Blocks
R1: Place Blocks
Menu: Pause
Tablet features
[
]
All devices have an option to enable Split Touch Controls, which may be more suitable for bigger screens. There is a crosshair and dragging a finger across the screen lets the player rotate the camera.
Other than the screen size difference allowing any number of slots in the hotbar, the tablet version of the game is the same as other versions, hence the ability to play multiplayer cross-platform with other devices.
Windows 10 Edition

[

]
Windows 10 Edition has 3 control options:
Keyboard: Similar controls to Java Edition.
Touch Screen: Used with Windows 10 PC's touch screen. The controls are exactly like the ones in Pocket Edition.
Controller: Used with compatible controllers, with a similar button layout to Console Edition's controls. These controls can be customized.
System requirements
[
]
&
Minimum version
Android Jelly Bean (4.2)

Until 0.12.2: Android Honeycomb (3.0)
Until 0.8.1: Android Gingerbread (2.3)
Until 0.6.0: Android Eclair (2.1)

iOS 8

Until 0.15.0: iOS 6
Until 0.14.2: iOS 5
Until 0.7.3: iOS 4.3.3

Processor
Any with support of floating-point calculations ("ARM-v7a code") and Neon[40]
600 MHz ARMv7 Cortex CPU
800 MHz Apple A5 CPU
Graphics
Any with support of OpenGL ES 2.0
Storage
12.5 MB (100 MB to 1 GB is the max to save a map)
9.5 MB (100 MB to 1 GB is the max to save a map)
Data connection
Optional (Realms access)
Optional (Realms access)
Supported devices
Most Android mobile devices

iPhone

iPhone 4S or later
iPhone SE (all models)

iPad

Any iPad except iPad (1st gen)

iPod touch

iPod touch (5th gen or later)
Some devices below these specifications have been known to work fine either with or without custom ROM images, kernels, and overclocking of the CPU. However, the CPU MSM7227 is not supported due to its lack of the floating-point unit.[41] The processor Tegra 2 is also not supported because the processor has no support for Neon.
Trivia
[
]
Minecraft: Pi Edition is derived from an early Pocket Edition development version.
In the demo video, before the game was released, smooth lighting was available. It was taken out due to bugs being produced on a wide range of devices. As of 0.7.0, it is on by default, and since 0.8.0, it cannot be turned off.
The terrain.png file found in filesystem of the App is nearly identical to that in the Java Edition, containing textures for items unimplemented in the Pocket Edition (e.g., flowers). However, in 0.8.0, this file was replaced with terrain-atlas.tga, a neater version of the previous file
The barrier wall in old worlds is also cut by the height limit allowing players to go over it.
The average placing/destroying block range is 4-6 on the Java Edition and 6-9 on iOS/Android.
China Edition

[

]
Shortly before the release of 1.2, the game company NetEase licensed Minecraft in mainland China.[42] The original version is no longer available in the Chinese app store. A separate edition based on Pocket Edition is instead available for free, with a marketplace where players can buy maps, skins, mods and resource packs with Emeralds (an in game currency that can be bought with real money or by logging in every day).
Shortly after the release of Minecraft: China Edition, an update was released on iOS devices for the original version titled 1.1.7. This update disables the store.
Gallery
[
]
Gameplay
[
]
Logos and Covers
[
]
Logos
[
]
Minecraft Google Play image as seen in the 2014 Google Play Logo Commercial.[43]
Covers
[
]
References
[
]