Minecraft Interactive Experience
Play Sound

This article needs to be updated.
Please update this page to reflect recent updates or newly available information.
Reason: Needs to add the chance of finding an allay in a pillager outpost
Pillager Outpost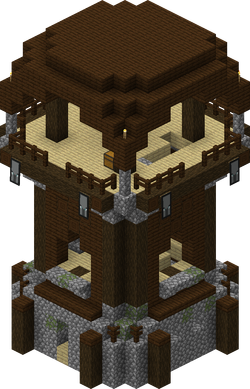 Biomes
Consists of
Can generate in
existing chunks

No
A pillager outpost is an assortment of structures inhabited by pillagers.
Generation
[
]
Pillager outposts are semi-rare structures, generating every several hundred to couple thousand blocks.[1] This makes them rarer than villages[2] but less rare than woodland mansions.
Pillager outposts can generate naturally in any village-generating biome, including:
Pillager outposts also generate in the following biomes, where villages do not spawn:
In Java Edition, pillager outposts never generate too close to, or within, villages. They can do so in Bedrock Edition as well generate far away from villages.
In Java Edition, if an outpost spawns in the water or in the air (e.g., spawning near a savanna plateau), then a platform of grass (or sand), dirt, and stone spawns underneath it in a circular shape. This also applies to the smaller structures such as tents, targets, log piles, and cages. On occasion, the smaller structures still spawn in the air despite having a platform below them, depending on how high up they are.
In Bedrock Edition, pillager outposts generate with foundations similar to that of a woodland mansion: watchtowers use cobblestone, birch planks, and dark oak logs as their foundation; tents and cages generate dark oak planks as their foundation; log piles use horizontal dark oak logs as their foundation; and targets generate cobblestone as a foundation.
The outpost tower generates each time. Up to 4 other smaller structures may spawn around the periphery of the main outpost structure.
Eight extra air blocks also generate around the outpost.[3]
Mobs
[
]
Iron golems and allays spawn only during the generation of the outpost structures. If an iron golem or an allay spawns, it does so only inside a cage. Pillagers do not attack iron golems in cages, although the iron golem can attack any pillagers that are one block near the cage, because iron golems can attack through a one-block wall.
Both regular pillagers and pillager captains can continuously spawn around the structure. Pillagers can still spawn if a player is inside the tower.[needs in-game testing] In Java Edition they spawn in a 72×54×72 area centered on the top level of the watchtower, the same level as the chest. In Bedrock Edition, they spawn at or below a particular location in the outpost; specifically, they choose the northwest corner of the highest opaque block with a non-solid block on top.
In Java Edition, only pillagers and passive mobs may spawn within a pillager outpost spawn area. Pillagers may spawn on any valid opaque block as long as the sky light level is 11 or lower, and the block light level is 8 or lower, but can also spawn on grass or sand blocks regardless of sky light level. Therefore, players may pacify an outpost by removing all grass/sand blocks and properly lighting the area as they normally would to prevent enemy mob spawns.
A total of eight pillagers, including the pillager captain, spawns in a pillager outpost.
Bad Omen
[
]
Upon killing an outpost captain, the player receives 1 level of the Bad Omen effect applied to them for 100 minutes (5 in-game days).
Structure
[
]
A pillager outpost consists of a 4 level watchtower with other smaller structures around it.
Structure blocks can be used to manually load pieces of the pillager outpost from the /data/minecraft/structures/pillager_outpost folder in minecraft.jar. To do so, set a structure block to Load mode, enter pillager_outpost/<structure_name>, and press LOAD.
Structure name
Description
Consists of
Images
pillager_outpost/watchtower
A large tower with a loot chest on the top level.

347 Dark Oak Planks
290 Birch Planks
207 Cobblestone
144 Dark Oak Log
48 Dark Oak Fence
45 Dark Oak Slab
33 Cobblestone Stairs
16 Dark Oak Stairs
8 Cobblestone Wall
4 Cobblestone Slab
4 Torch
1 Chest (random loot)
8 Ominous Banner‌[JE only]/Illager Banner‌[BE only]

pillager_outpost/feature_cage1
pillager_outpost/feature_cage2
A wooden cage, with cage_2 having an iron golem.

24 Dark Oak Fence
12 Dark Oak Log
8 Dark Oak Stairs
4 Dark Oak Slab
0~1 Iron Golem

pillager_outpost/feature_cage_with_allays
A wooden cage, with some allays trapped inside.

28 Dark Oak Fence
12 Dark Oak Log
8 Dark Oak Stairs
4 Dark Oak Slab
0~3 Allay

pillager_outpost/feature_logs
A pile of dark oak logs.

21 Dark Oak Log

pillager_outpost/feature_targets
Two scarecrow-like targets.

pillager_outpost/feature_tent1
A small tent made of wool, with a crafting table inside.

pillager_outpost/feature_tent2
A small tent made of wool, with a crafting table and pumpkins inside.
Technical structures
[
]
Loot
[
]
In Java Edition, each pillager outpost chest contains items drawn from 5 pools, with the following distribution:
In Bedrock Edition, each pillager outpost chest contains items drawn from 5 pools, with the following distribution:
History
[
]
Issues
[
]
Issues relating to "Pillager Outpost" are maintained on the bug tracker. Report issues there.
Gallery
[
]
A pillager outpost in a taiga biome.

A beachside pillager outpost with targets and a tent.

Unusual pillager outpost generation in Java Edition. Note how the structure generates new blocks around it, likely because it spawned too close to an ocean.

A pillager outpost with the roof removed to show the spawn location of pillagers in Bedrock Edition

An extremely rare instance of a fossil generated inside a pillager outpost.
Odd generation
[
]
References
[
]