Come on! Grow up!

This article is a stub. You can help Minecraft Wiki by expanding the page.
For the other pig-like creature, see Pigman.
For the stronger (exclusive to the bedrock edition) piglin mob found in the Bastion Remnants, see Piglin Brute.
For the zombie piglin mob commonly encountered in the Nether, see Zombified Piglin.
Not to be confused with Zombified Piglin.

A piglin is a semi-neutral mob that is located in and throughout the Nether.
Behavior
Piglins will be aggressive to players as long as they are not wearing any armor made out of gold. If the player is wearing any gold armor, the Piglin will not attack. They wield golden swords and crossbows as weapons. If not angered, they will barter with the player for gold. They will also attack wither skeletons. They will also attack hoglins, when hungry and dance if successful.  Piglins are afraid of Zombified Piglins and anything related to soul fire. They will run away as soon as they see them. Like villagers, Piglins can open wooden doors.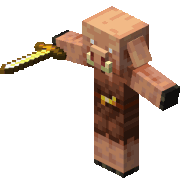 Bartering
The player can barter by right clicking or dropping gold at a piglin as long as they aren't angered. They will give the player a random item on a six second timer. This can give one of the following items: They like to barter with players.
Trivia
Even if the player wears gold armor, piglins will become aggravated towards the player if they open a chest.
The death sound for the piglin is currently identical to that of the pig, but this is probably just a placeholder.
Piglins can also spawn wearing gold armor.
They are the second mobs to be able to naturally spawn holding crossbows, the first being the pillager.
The piglin will be the second mob in the game whose neutral status is affected by what the player wears. The first was the Enderman, which will not become hostile to a player that looks them in they eyes if the player is wearing a carved pumpkin.
To barter with the piglin, the player must throw gold at them. They will throw an item back at the player.
Piglins currently barter only with gold ingots to give you lots of different items.
Piglins are scared of anything that's made out of soul fire, such as soul fire, soul torches, soul lanterns, and soul campfires.
If piglins come in contact with the Overworld or The End, they will transform into zombified piglins.
If a piglin sees a zombified piglin, the piglin will run away.
If you give a piglin a piece of Gold Armor , they will look at it and eventually wear it.
Baby piglins will spawn naturally just like adult piglins.
Baby piglins will play with each other.
Unlike adult piglins, baby piglins are passive to the player and baby hoglins but they will still kill wither skeletons.
Baby piglins will let you give them an item and give you nothing in return.
Baby piglins may ride baby hoglins.
Baby piglins may ride other baby piglins that ride a baby hoglin.
They are able to pick up any armor as long as the armor piece is better than the one they have equipped (They do still always prefer gold).
Piglins are able to open doors.
Zombified piglins have a lighter shade of pink than regular piglins.
In order to avoid hostility from piglins, a player does not need to wear full Gold Armor. So long as one of the worn pieces of armor is gold, piglins will not be hostile.
After finishing a successful Hoglin hunt, Piglins will sometimes dance.
Gallery
References
Community content is available under
CC-BY-SA
unless otherwise noted.