For the red coloured variant found in Minecraft, see Red Nether Brick.
Nether Brick is a common block found in The Nether, and it makes up Nether fortresses.
They were added in the pre-release of Beta 1.9. As such, they are the only readily available source of strong building material in the Nether. Nether brick can also be used to make Nether Brick Fences. They can be crafted as of update 1.5.
The blast resistance of the block is similar to that of Stone Brick. Unlike netherrack, Fire will not burn infinitely on nether brick.
Wither Skeletons can spawn on them as of snapshot 12w37a. It also seems to make areas darker.
In Pocket Edition, before version 0.12, these were made by smelting the netherrack and creating them at the Stonecutter.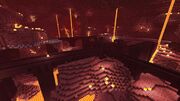 Crafting
Community content is available under
CC-BY-SA
unless otherwise noted.