"Nathan" redirects here. For the previous Mojang employee, see
Nathan Gilbert
.
Nathan Adams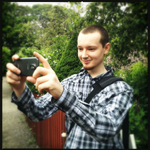 Real name

Nathan Adams

Date of birth

July 23, 1991 (age 31)[1]

Occupation

Technical Director[2]

Nationality
Website
Known for

Bukkit
Minecraft

Wiki name
Reddit name
Twitter name
GitHub profile
Bug tracker profile
Minecraft names
| | | |
| --- | --- | --- |
| " | Dinnerbone is a super nice guy, and adds lots of fancy features to Minecraft. He wears ribbons in his hair, and smells of rich mahogany and leather-bound books. He is the co-president of the country of Bonerstan, along with Marc. If you kill him in Minecraft, he drops a kitten. Correction: he gently sets down a kitten, because why would he ever DROP a kitten? He's way too nice for that. | " |
| | — Marc Watson[7][8] | |
Nathan 'Dinnerbone' Adams is a technical director at Mojang Studios who worked on Java and Bedrock editions,[9] and its launcher. A member of the Bukkit team, Adams was hired by Mojang on February 28, 2012 to develop the mod API.[10][11] His first day at the Mojang office was March 27, 2012,[12] shortly before the first development snapshots for version Java Edition 1.3.1.
A common trope attributed to Dinnerbone is that he is commonly displayed as being upside-down.[13][14] His Twitter avatar is flipped[15] and his user model, as well as any mob named "Dinnerbone", is rendered upside-down.[14]
In October 2015, he announced that he would be "taking a break from Minecraft PC development for a few months."[16] Later, in February 2016, he further elaborated that though he would continue on other projects at Mojang, he had left the Minecraft team.[17][18] During this time, he worked on the 2017 native launcher. On February 6, 2017, Dinnerbone confirmed he had rejoined the Minecraft team.[19]
Biography
[
]
Nathan Adams is originally from Shrewsbury, United Kingdom.[20] He says he learned programming through creating MSN bots at age 10.[6][21] After finishing secondary school, Dinnerbone was rejected from college,[22] so he found a job with a tiny web development company, but was made redundant after a few years. Shortly after starting Bukkit, Dinnerbone was hired by Curse where he worked until joining Mojang Studios.[23] Aleksandra Zajac (MissMarzenia) is his fiancée.[24] He announced on August 24, 2016 that he and Aleksandra were expecting a baby boy.[25][26] The baby was later born on October 2, 2016.[27]
Videos
[
]
Dinnerbone in the Java Account Migration videos
Trivia
[
]
Dinnerbone is red-green colorblind, the most common type of colorblindness.[20][28]

This reason is why rubies were replaced by Emeralds as the primary currency for the game.

Dinnerbone's favorite color is blue, his favorite foods are lasagna and pizza,[20] and his "guilty pleasure" is milkshakes.[30]
Dinnerbone does not drink alcohol.[32]
If the player names any mob with a name tag with the name "Dinnerbone", the mob flips upside down. This naturally extends to himself. A similar effect is applied when naming a mob "Grumm".
Dinnerbone could sometimes be found on the MindCrack server with other famous YouTubers.
Dinnerbone was a member of the popular Hermitcraft server during its early days.
Dinnerbone's bodyguard in a Java Account Move video flipped him right side up. He remains this way throughout both migration videos.
In a Java Account Move video, someone asked Dinnerbone if he was LunchMuscle.
Gallery
[
]
Notes
[
]
↑

Nathan's Minecraft wiki name automatically changed from "Dinnerbone" to "Dinnerbone-gpuser" during the Fandom account merge.
References
[
]