Mushroom fields (commonly referred to and previously known as mushroom islands) is a rare lush biome. It is the rarest non-variant biome in the game. The mushroom biome usually generates as a single island surrounded by ocean, though it occasionally generates touching land on a side. The islands have the occasional tendency to be close to one another, resulting in multiple mushroom fields separated by only a few hundred blocks.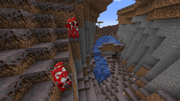 Description
[
]
The mushroom fields biome consists of a mixture of flat landscape and steep hills that have mycelium instead of grass blocks on the surface. Any grass blocks that are placed by the player in this biome take on a bright green color, similar to the grass found in jungles. A large amount of brown and red mushrooms cover the land. It is one of the only biomes, along with swamps‌[Bedrock Edition only] and dark forests, where huge mushrooms generate naturally. The mushrooms generate as trees with a density high enough to be a reliable source of huge mushroom blocks, but low enough not to significantly obstruct vision. Here, mushrooms can grow in full sunlight. Water is a light gray color in Bedrock Edition. This is the only biome where mooshrooms naturally spawn. Red mooshrooms and bats‌[JE only] are the only mobs that spawn naturally in this biome, along with the rare brown mooshroom; this also applies to caves, mineshafts, and other dark structures, meaning the biome is mostly safe. However, spawners (found in mineshafts, dungeons, or strongholds) still spawn mobs, raids still can spawn illagers, wandering traders along with trader llamas can still spawn here, and the player can still breed animals, use a fish bucket to spawn fish, and spawn mobs using spawn eggs. Additionally, lightning strikes in this biome still carry the small chance of spawning skeleton traps, and transforms red mooshrooms into brown mooshrooms or vice versa. If the player hasn't slept in three nights, Phantoms spawn as soon as the player is no longer within the biome at night.
In Java Edition :
Mob

Spawn chance

Group size

Ambient category

Bat

10⁄10
8
Passive category

Mooshroom

8⁄8
4–8
In Bedrock Edition :
Mob

Spawn chance

Group size

Passive category

Mooshroom

8⁄8
4–8
Variants
[
]
Mushroom fields have only one variant, for a total of two different biomes.
Mushroom Field Shore
[
]
The mushroom field shore is a technical biome, that represents both the shores and the rivers of the mushroom fields. It generates when a river cuts through it as well as when it borders an ocean, unless the ocean is a deep variant, in which case a steep cliff generates instead. The terrain of this biome is much flatter and shallower in elevation, similar to beaches, though it is equal to the mushroom fields in every other way. Buried treasure can generate here and sometimes shipwrecks.
Mushroom field shores use the same mob spawning chances as mushroom fields.

Data values
[
]
ID
[
]
| Name | Resource location | Translation key |
| --- | --- | --- |
| Mushroom Fields | mushroom_fields | biome.minecraft.mushroom_fields |
| Mushroom Field Shore | mushroom_field_shore | biome.minecraft.mushroom_field_shore |
| Name | Resource location | Numeric ID |
| --- | --- | --- |
| [No displayed name] | mushroom_island | 14 |
| [No displayed name] | mushroom_island_shore | 15 |
History
[
]
Gallery
[
]
See also
[
]
References
[
]