A moss block is a natural block that can be spread to some other blocks by using bone meal.
Obtaining
[
]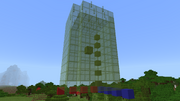 Natural generation
[
]
Moss generates on the floor and ceiling within the lush caves biome and as loot in shipwreck chests.
Trading
[
]
Moss blocks can be obtained by trading with a wandering trader, who may sell 2 moss blocks for 1 emerald.
Breaking
[
]
Moss blocks can be mined using any tool or by hand, but a hoe is the fastest way to break it.
Block

Moss Block

Hardness
0.1
Tool
Breaking time[A]
Default
0.15

Wooden

0.1

Stone

0.05

Iron

0.05

Diamond

0.05

Netherite

0.05

Golden

0.05
↑ Times are for unenchanted tools as wielded by players with no status effects, measured in seconds. For more information, see Breaking § Speed.
Chest loot
[
]
Post–generation
[
]
In Java Edition, using bone meal on a moss block causes nearby blocks with the base_stone_overworld, cave_vines and dirt tags to be converted to moss blocks.
Moss spreads to any blocks with air above them in a corner-less 7×11×7 volume centered on the original moss block. Foliage can replace air on any of these blocks.
Behavior
[
]
In Java Edition, all plants can be placed on moss except for cactus. In Bedrock Edition, cactus, bamboo, dead bush, and sugar cane are the only plants which cannot be placed on moss.
Using bone meal on moss blocks causes grass, moss carpets, azaleas and flowering azaleas to grow.
This has the added effect of replacing adjacent blocks by moss blocks.
Piston interactivity
[
]
A moss block drops as an item when a piston pushes it.‌[Java Edition only]‌[upcoming: BE 1.17.20]
Usage
[
]
Crafting ingredient
[
]
Composting
[
]
Placing a moss block into a composter has a 65% chance of raising the compost level by 1.
Sounds
[
]
Bedrock Edition:[more information needed]
Data values
[
]
ID
[
]
Name
Resource location
Block tags (JE)
Form
Translation key
Moss Block
moss_block
dirt
lush_plants_replaceable
small_dripleaf_placeable‌
Block & Item
block.minecraft.moss_block
| Name | Resource location | Numeric ID | Form | Translation key |
| --- | --- | --- | --- | --- |
| Moss Block | moss_block | 575 | Block & Item | tile.moss_block.name |
History
[
]
Issues
[
]
Issues relating to "Moss Block" are maintained on the bug tracker. Report issues there.
Gallery
[
]

This section would benefit from the addition of more images.
Please remove this notice once you've added suitable images to the article.

References
[
]