The Moon in Minecraft moves across the sky during the night and is replaced by the Sun during day time.
Overview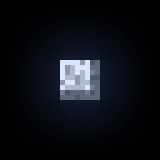 A full day/night cycle in Minecraft is about 20 minutes, and the moon is out for about 7 minutes. The Clock can be used to show the sun and the moon's positions. The movement of the moon in Minecraft is similar to the earth's day/night cycle, and it is about the same size. Like Earth's moon, it follows a cycle of 8 phases:
New Moon
Waxing Crescent
First Quarter
Waxing Gibbous
Full Moon
Waning Gibbous
Third Quarter
Waning Crescent
Trivia
The phase of the moon affects:
As Minecraft consists of blocks, the moon is square, as is the sun.
The Minecraft moon's phases change each day, as opposed to Earth's moon, which changes every 3–4 days.
Community content is available under
CC-BY-SA
unless otherwise noted.