Minecraft Interactive Experience
Play Sound
Mojam

The Humble Bundle Mojam was an annual charity event in which the Mojang Studios team and other developers create a series of collections ("bundles") of video games that are sold and distributed online at a price determined by the purchaser. Sales of bundles are split between the developers/creators, the Humble Bundle operators, and one or more charities including Child's Play, the Electronic Frontier Foundation, charity: water, and the American Red Cross, with the buyer able to set the revenue split between these groups.
Humble Bundle Mojam
[
]

The first Mojam event took place on February 17, 2012 and lasted for 60 hours. During this time, Mojang Studios crafted a brand-new game from scratch, called Catacomb Snatch. Using the results of a poll in which both the most and least voted for categories were mixed together, the game features an "RTS-shoot 'em up" genre and "steampunk-Ancient Egypt" theme. The Humble Indie Bundle website featured live-stream footage of the development, and took donations; those who donated received access to the game not only once it was completed, but when the developers released stable builds during the event. The bundle also featured Fists of Resistance from Oxeye Game Studio and The Broadside Express from Wolfire Games. Oxeye Game Studio's game used the secondary options from the poll, creating a "dungeon crawler-beat 'em up" with a post apocalyptic World War II theme, while Wolfire Games created a game with the same genre and theme as Mojang Studios' Catacomb Snatch.[1]
The 60 hours ended with a total of over $440,000 sales, and over 79,000 bundles sold. However, the sale was temporarily extended, allowing for "last chance" purchases. The sale officially ended with 81,581 bundles distributed for a total of $458,329.98. All funds were distributed to four charities: Child's Play, Electronic Frontier Foundation, charity: water and the American Red Cross.[2]
Humble Bundle Mojam 2
[
]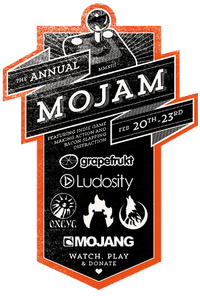 On February 20, 2013, Mojang Studios announced the "Humble Bundle Mojam 2".[3][4] Much like the first Mojam, Mojang Studios took suggestions for potential game ideas and developed a game from them in 78 hours. During this Mojam, other developers including Oxeye Game Studio, Wolfire Games, Vlambeer, Grapefrukt Games, and Ludosity also are making games for the event.
During the event, Mojang Studios created Nuclear Pizza War, Endless Nuclear Kittens, and Battle Frogs.[5][6] All proceeds were donated to the Electronic Frontier Foundation and Block by Block, a Mojang Studios charity project.[7] Donations included a $100,000 donation by an anonymous donor.[8] Notch shaved his beard after a $500,000 goal was achieved.
Humble Bundle Games Against Ebola
[
]
Mojang Studios did not do a Mojam in 2014, but instead participated in "Games Against Ebola". This event is supporting Direct Relief, a nonprofit organization dedicated to improving the health and lives of people affected by poverty or emergency situations, by mobilizing and providing essential medical resources needed for their care.
Mojang Studios created Docktor, Healthcore Evolved, and Snake Oil Stanley, as well as former employee Tobias Möllstam creating Shipment-23.
Humble Blockjam Bundle
[
]
The Humble Blockjam Bundle[9] was started at 3 p.m. on November 8, 2016 and ended at 12 p.m. CET on November 11, 2016. The Blockjam included a few groups of Mojang Studios developers from both the Redmond and Stockholm offices, Grapefrukt, Ludosity and the wonderboys from Oxeye Game Studio. 100% of the proceeds went toward Block by Block – an initiative which funds public spaces in poor communities around the world. Members of these communities use Minecraft to help influence the final designs.
Trivia
[
]
References
[
]
External links
[
]