{{stub}}
This page is part of the Slovak translation project.
There is information about the project below this notice.

Buttercup je malá žltá kvetina ktorá sa dá nájsť iba v Minecraft Earth
Projects/Slovak translation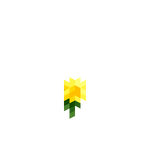 Získavanie
[
]
Prírodná Generácia
[
]
Buttercupy sa dajú nájsť na tráve alebo v "marsh tappables".
Moobloom
[
]
Moobloom takisto dropuje jeden buttercup keď je ostrihaná.
Použitie
[
]
Keď je buttercup zobratý to inventára tak hráč dostane 10 xp.
Blocks
Biology
Wood/Hypha
Plant
Fungus
Fauna
Fauna Product
Algae
Building

Decoration
Mineral Block
Manufactured
Lighting
BE & EE only