Jesses's Gang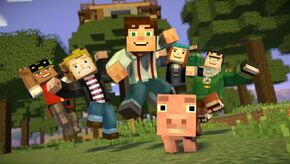 The New Order of the Stone, also known as Jesse's Gang, is the main cast of characters. In the start of the story, it includes Jesse, Axel, Olivia and the group's pet Reuben.
Throughout Season 1, Lukas and Petra join the group. In Season 2, Ivor, Radar, Jack, Nurm and the new pet Lluna (determinant) joins.
This group is canonically considered as a "new Order of the Stone".
Gallery
[
]
Season 1
[
]
References
[
]