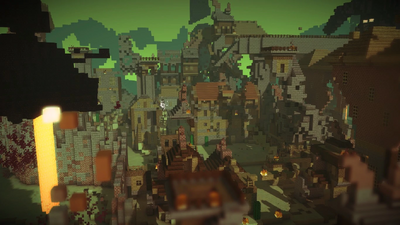 "

Hello, Boom Town!

"
— Jesse after winning the

Death Bowl

. (Determinant)
Boom Town is a town full of griefers and ruined buildings. It was created by Magnus the Rogue.
Location

[

]
Boom Town is located in a desert biome somewhere to the west in the overworld, as shown on the tracking device's map. It can be easily traveled to by using the nether minecart system.
Architecture
[
]
Boom Town is set in a desert biome with many ruined buildings, due to the many griefers. The buildings are mainly made of bricks, stone bricks, oak planks and fences, oak logs, windows, and acacia stairs. A nether portal serves as one of the Os in Boom Town's title "Boom Town" with the rest of the letters made of white or red wool.
Inhabitants
[
]
Visitors
[
]
Trivia
[
]
If Jesse goes to Boom Town, he/she never goes back, and nobody challenges him/her, meaning he/she is still the king throughout the rest of the story.
If Jesse goes to Redstonia, Boom Town is not shown to be destroyed by the Wither Storm.
The nether portal being an O in "Boom Town" is a similar feature in the tutorial worlds with a nether portal hidden inside the "Minecraft" logo.
There are posters of Magnus in a bowler hat, but he is never seen in one in the game.
The sign next to the nether portal leading to Boom Town reads as "

!

!

B

o

0

m

t

o

W

n

!!

". This is an implementation of formatting codes from the base game.
Gallery
[
]