Minecraft Earth was discontinued due to outdoor restrictions as a result of the COVID-19 pandemic.
It can no longer be downloaded or played, but the contents of this page are kept for historical interest.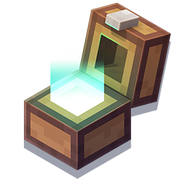 A tappable was an object on the map in Minecraft Earth that a player tapped several times to extract items that went into the inventory.
Types and rarity
[
]
The tappables encountered within the player's reach radius were any of:
Chest
Grass
Pond
Stone
Animals: Chicken, Cow, Pig, Sheep
Trees: Birch, Oak, Spruce
Each tappable contained items that were collected in the player's inventory. Up to three different blocks or items from the following lists were able to be collected from each tappable. There were five tiers of rarity for all blocks, items, and mobs available in tappables. The rarity was identified by the colored outline around the item.
Common = gray
Uncommon = green
Rare = blue
Epic = purple
Legendary = yellow
Chest tappables
[
]
Chest tappables contained resources that were either crafted or unobtainable through other tappables. They also contained high tiered loot from adventures. Up to three unique items appeared from a Chest tappable.
Grass and Pond tappables
[
]
Blocks and items that were available:
Stone tappable
[
]
Blocks and items that were available:
Tree tappables
[
]
There were three types of tree tappables, each of which yielded logs, leaves, and/or saplings which corresponded to the type of tree tapped:
Mob tappable
[
]
Tapping one of these mobs put the mob in the player's inventory. The player was able to place them on a buildplate.
Gallery
[
]