Minecraft

Earth:

Moolip

This article is a work in progress.
Moolip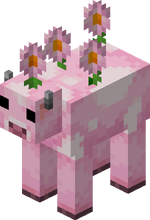 Health points

10

Behavior

Passive

Hitbox size

Height: 1.4 blocks
Width: 0.9 blocks
| | | |
| --- | --- | --- |
| " | Moolips appreciate gentle care, but don't mind an occasional sheering [sic] when their flowers grow too big. | " |
| | — Player Journal description | |
The Moolip is a pink daisy-covered variant of the mooshroom found only in Minecraft Earth. It is a rare drop of cow tappables. Moolips are like mooblooms, except they are light pink and sprout pink daisies instead of buttercups.
Appearance
[
edit
]
The moolip is a variant of the normal cow, though covered with pink daisies. Its body is a light pink with big white spots scattered throughout its body and head. It has two big black eyes, just like a mooshroom. It has 5 pink daisies, with 4 on its back, and one on its head, it has a white muzzle, a darker pink snout, and gray horns.
Obtaining
[
edit
]
Moolips are a rare mob drop from cow tappables. They can also be obtainable as a reward from Season 13, where the player must place 3 types of chickens onto a buildplate.
Behavior
[
edit
]
Moolips leave a trail of pink flowers as they walk, with each flower they plant having an apparent 40% chance of being an allium, an apparent 40% chance of being a lilac or an apparent 20% chance of being a peony. Otherwise, moolips mostly have the same AI behavior as mooshrooms and cows. They wander aimlessly, avoiding lava and cliffs high enough to cause fall damage.
A Moolip can be sheared for 1 Pink Daisy
Just like a normal cow, the moolip drops the following when killed:
Data values
[
edit
]
History
[
edit
]
The moolip has flowers on it in the same place as the Moobloom has flowers on it.

The only difference being the number with the Moolip having 5 flowers and the Moobloom having 4.

The moolip is the first mob to be a variant of a variant of a variant, with mooblooms being flower variants of mooshrooms, which in turn are variants of the cows from the base game.
The moolip is similar to the Pink Moobloom, which is an unused Minecraft Earth mob.
The player journal information about the moolip misspells "shearing" as "sheering".
The biome category of the journal reveals that Moolips spawn in the flower forest.
.

Gallery
[
edit
]