This page describes content that exists only in outdated versions of Minecraft Earth.
This feature used to be in the game but has since been removed.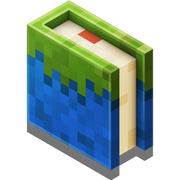 The journal was a section within Minecraft Earth that listed every mob, item, and block that the player had obtained. Once they collected one of the things mentioned earlier, it was recorded within the journal. There were 546 entries that were filled in the journal. The journal was split into Mobs, Construction, Nature, Equipment, and Items.
List of Entries
[
]
Mobs
[
]
Ocelot
[
]
Parrot
[
]
Polar Bear
[
]
Squid
[
]
Creeper
[
]
Skeleton
[
]
Spider
[
]
Zombie
[
]
Slime
[
]
Mob of Me
[
]
Witches
[
]
Gallery
[
]