Minecraft Earth was discontinued due to outdoor restrictions as a result of the COVID-19 pandemic.
It can no longer be downloaded or played, but the contents of this page are kept for historical interest.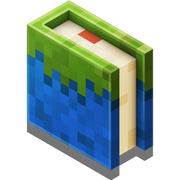 The journal was a section within Minecraft Earth that listed every mob, item, and block that the player had obtained. Once they collected one of the things mentioned earlier, it was recorded within the journal. There were 546 entries that were filled in the journal. The journal was split into Mobs, Construction, Nature, Equipment, and Items.
List of Entries
[
]
Mobs
[
]
Ocelot
[
]
Parrot
[
]
Polar Bear
[
]
Squid
[
]
Creeper
[
]
Skeleton
[
]
Spider
[
]
Zombie
[
]
Slime
[
]
Mob of Me
[
]
Witches
[
]
Gallery
[
]