Minecraft

Earth:

Health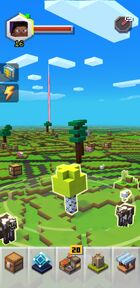 The health gauge in Minecraft Earth appears as a horizontal bar attached to the player's avatar in the upper left of the display.
Decreasing health
[
edit
]
The health gauge decreases (shrinks toward the left) when the player takes damage. Damage can be inflicted on the player only during adventures.
The player can receive damage in multiple ways:
Mob attacks.
Burning (such as when walking into lava), but fire does not kill the player. Health is just weakened to near-death.
Restoring health
[
edit
]
The player can restore health by eating food. During an adventure, if health gets dangerously low due to attacks from mobs, the player can step back from the adventure, out of view of hostile mobs, and eat some food to restore health. Cooked food provides greater restorative benefits than uncooked food.
Outside of an adventure, food can be eaten from the inventory by selecting the food item and pressing the "i" icon for information, at which time the player is given an option to eat.
Food for restoring health cannot be cooked during an adventure, unless an animal dies in fire and drops cooked meat rather than raw meat.[verify] Otherwise, smelting food to cook it must be done outside of adventures.
If the health gauge decreases to zero, the player dies and the adventure ends. Upon death, the player loses any items collected during the adventure, as well as any items that were in the hotbar prior to the adventure.
Unlike regular Minecraft, experience is not lost upon death. Any experience that the player may have gained during the adventure is forfeited, but experience the player earned prior to the adventure remains unchanged.
Mob health
[
edit
]
Mobs
Health
Playable
Player
20 × 10
Passive

Chicken


4

Cluckshroom


4

Cow


10

Glow Squid


10

Jumbo Rabbit


3

Melon Golem


4

Mob of Me


20 × 10

Moobloom


10

Muddy Pig


10

Ocelot


10

Parrot


6

Pig


10

Rabbit


3

Salmon


3

Sheep


8

Tropical Fish


3

Wooly Cow


10
Neutral

Horned Sheep


8

Jolly Llama


15 × 7.5 to 30 × 15

Polar Bear


30 × 15

Spider


16 × 8

Tropical Slime


16 × 8
Hostile

Creeper


20 × 10

Skeleton


20 × 10

Skeleton Wolf


10

Zombie


20 × 10

Lobber Zombie


20 × 10
Unused

Bone Spider


32 × 16

Furnace Golem


???

Dyed Cat


???

Tropical Slime


???